In SALESmanago we can continuously track the increase of contacts in the database, as well as the number of contacts that have unsubscribed from the sending – having opt-out status. Analyze the average hourly and daily activity of contacts and check why users decide to withdraw their marketing consent. You will find all this information shown in a simple, graphical way in the Database Analytics panel.
To find Database Analytics charts you have to go to
CRM => Database Analytics
---

After entering the panel, on the top you can see Basic data – it is a set of data about the contacts divided into four groups:
[1] Total contacts – presents information about the total number of contacts in the system.
[2] Your new contacts – represents the increment of contacts within the specific time period.
[3] Opted out contacts – shows the number of all contacts in the system who have opt-out status.
[4] Monitored contacts – presents the numbers of the monitored contacts in the system who have opt-in status.
In Basic data panel you can see also Basic data filter [6] option, thanks to that information is counted on the basis of the chosen date and showed on the charts. You can choose the time period for which you want to generate statistics: from last 7 days, 30 days, current month, previous month, current quarter, previous quarter, current year, previous year and last 12 months.
After clicking the Preview [5] button the following information will be presented on the chart below:

The chart presents selected information after clicking the preview button also it shows how the contact growth in the database.
Export [7] button allows you to export the data in the file to Content Repository, after clicking it the following panel will show:

[1] Choose folder – from the dropdown list choose the folder to which the exported file will be sent in Content Repository.
[2] Set permission – exported file can achieve a private status. It means that it will be available only for the user account from which the export has been done.
[3] Date – choose the time period from which the data will be sourced.
After entering the data click Export button.
---
Contacts activity section presents the activity of the contacts in relation to the time of the day, or the day of the week. It is a result of the activity linked to visits to the website and reading the messages by contacts.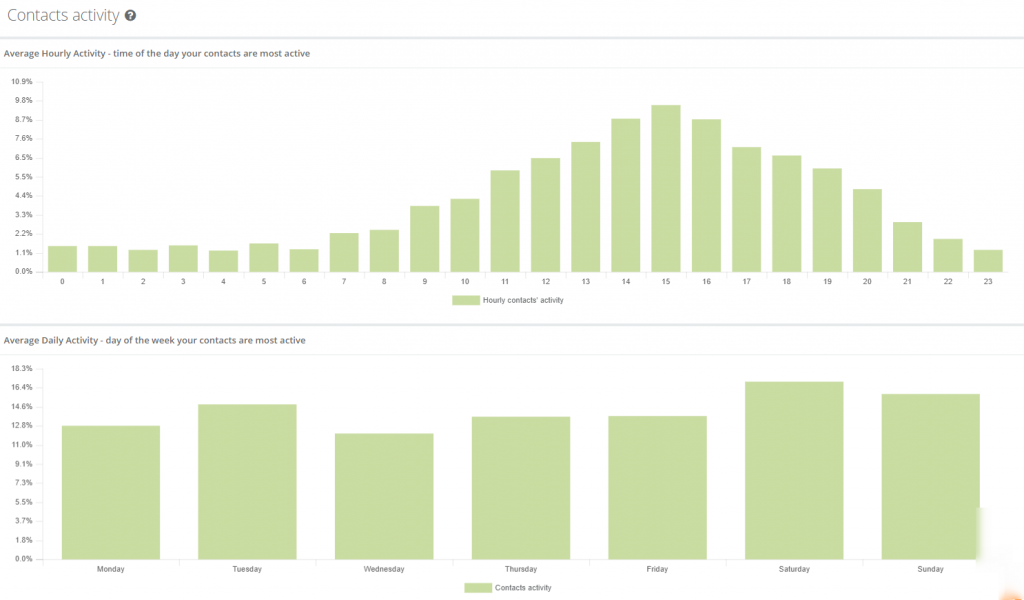 ---
The Subscribers section is divided into three parts: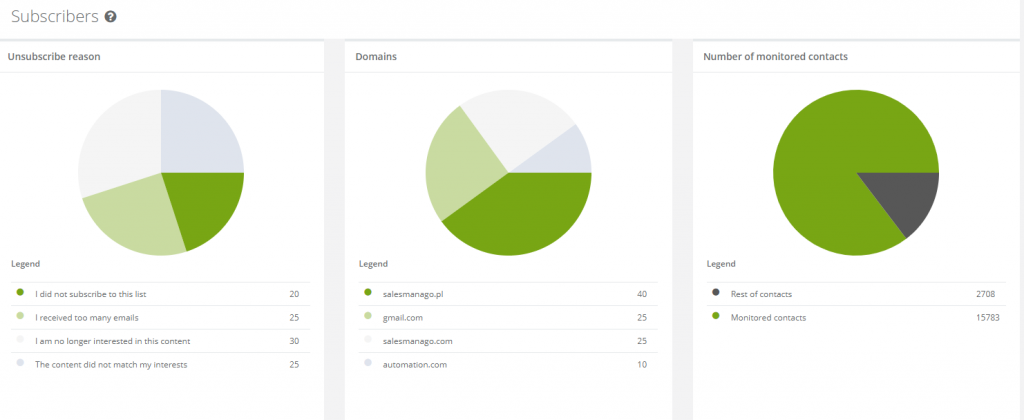 The first part is dedicated to the Unsubscribe reason. The options they can choose from are:
I did not subscribe to this list,

I received too many emails,

I am no longer interested in this content.

The content  did not match my interests,
The second chart presents the Domains of subscribers' email addresses. The third one presents the Number of monitored contacts relative to unmonitored.
If you need more information about the topic mentioned above, please contact us:
support@salesmanago.com
+1 800 960 0640