In SALESmanago you can create your own account to send emails. This allows you to communicate with clients over an external email service (such as Outlook) while still enjoying the email analytics features of SALESmanago.
1. Setting up an email account
Sign in to your Outlook and go to Options → Accounts → POP and IMAP. Set POP Options to Yes.
IMPORTANT: The versions supported by SALESmanago are for Outlook 2017 and above.
In SALESmanago go to Settings → Email accounts and then click Add Your Own Email Account.
A window will open with several fillable fields. We will cover it in the next step.
Learn more about using proxy mode >>

2. Account settings
To create a new account fill in the empty fields.
Enter Name and Email address of your Outlook account. Then enter the Display name (what recipients will see) and the reply-to address and display name (reply-to is the account recipients will reply to by default).
In SMTP host: enter smtp-mail.outlook.com and set SMTP port as in the example. In SMTP user enter the email address of your Outlook account. Then enter the SMTP password.
Proceed to adjust the remaining settings as in the example. In POP3/IMAP user enter your Outlook account's address.
In Proxy tag you can enter a tag that will be assigned to contacts that receive an email from this proxy account (the tag will appear on their contact cards).
To check if the data you entered is valid, you can click Debug settings. On the bottom of the screen, a message will appear and notify you if the connection to SMTP host is possible. Then click Check settings to see if the data you entered is valid. If everything is OK, click Save and proceed to set your account in Outlook.

3, Connecting Microsoft Outlook 2016
In Outlook's Options, connect an email account and enter information that matches details you've used in the previous step in SALESmanago. Be sure to select the checkbox Manually configure account settings (POP, IMAP or Send Only Account).
In the next step, choose the connection type IMAP/SMTP. Click OK.
For the next step, you will need some of your Outlook's account information. In SALESmanago go to the list of email accounts and click Settings next to the newly created account. A list like this one will open:
Now enter this information in Outlook, in email client settings. If you are unsure what to enter, consult the following example.

4. Putting a proxy account to use
In Direct Email Analytics you can see messages sent from proxy email accounts. Below you can see an example message sent from Outlook.
All who receive a message from such an account are automatically added to SALESmanago as contacts with two tags – MAILBOX and a proxy tag.
Links in emails sent this way always contain additional parameters such as smclient0 that makes monitoring contacts possible. Moreover, links include UTM parameters that indicate the source of visit on a website, the used medium, and the campaign. Below you can see an example message sent from a proxy Outlook account to a Gmail inbox.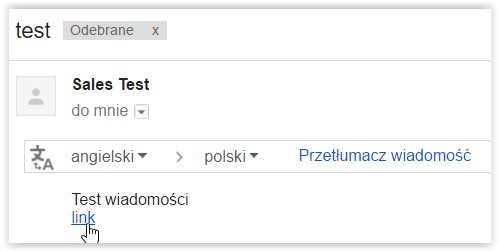 If you need more information about the topic mentioned above, please contact us:
support@salesmanago.com
+1 800 960 0640