By using the action Send an email after an abandoned cart, you can reach out to customers who abandon their carts on your website. In these messages, you can include dynamic data from an XML file which results in customers seeing the items from the cart they abandoned, in the content of the email.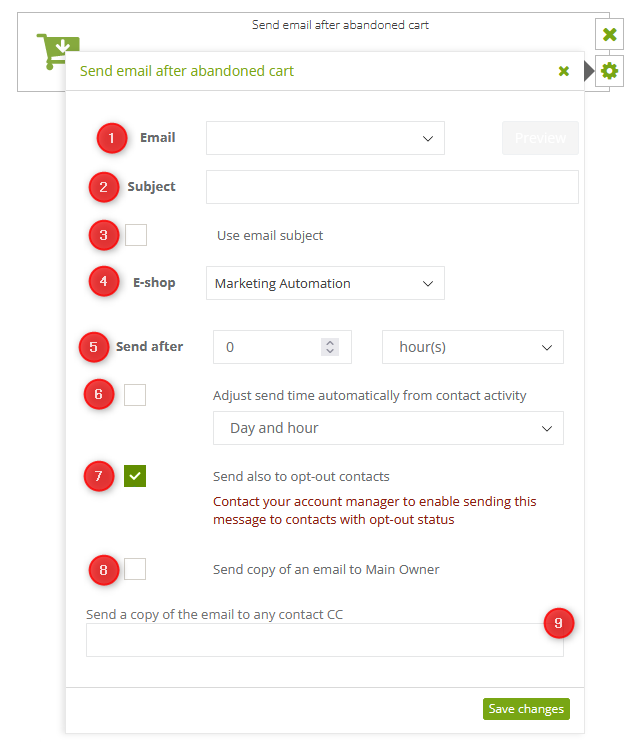 [1] Email – select the email you want to send after the abandoned cart. You can also see its preview.
[2] Subject – enter the subject of the message.
[3] Use email subject – by checking this option, the subject will be taken from the email template settings.
[4] E-shop – select XML files that will be used in the message to display products.
[5] Send after – after the occurrence of the event, set the time when you want the email to be sent.
[6] Adjust send time automatically from contact activity – selecting the optimal date/hour lets you send an email individually adjusted to the highest activity of the contact. That means the system checks when the contact is the most active and sends the message then. The system counts the activity of the contact on the basis of activity on the website, reaction to emails (both click and open rate), and external events such as purchase or cart (only if the online shop is integrated with SALESmanago).
[7] Send also to opt-out contacts – check if you want to send the message to contacts unsubscribed from the newsletter. This is possible due to the email is not part of the marketing campaign, and only reminds the contact about the unfinished transaction.
IMPORTANT: To activate this option, please contact your Account Manager.
[8] Send copy of an email to Main Owner – the email will be delivered to Main Owner of the contact right after the email is sent to the contact. Because of that, you will know when the action has been activated.
[9] Send a copy of the email to any contact CC – you can type in any email address you want to receive a copy of the email.
Support SALESmanago - Customer Engagement Platform for impact-hungry eCommerce marketing teams
Average rating:
0 reviews
If you need more information about the topic mentioned above, please contact us:
support@salesmanago.com
+1 800 960 0640