This event starts when the contact enters the monitored site with a particular reference given in the event. Reference is transmitted by the HTML protocol, as in referrer.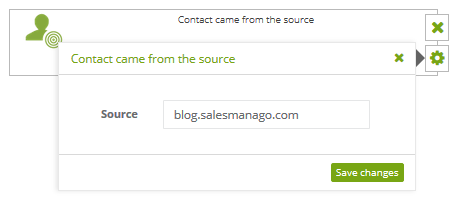 To set this rule:
[1] The type of event: contact came from the source.
[2] Source: the name of the source is collected automatically from the referrer. The source is taken after saved in data base IP address.

IMPORTANT: The phrase is taken from keywords saved after visit, for e.g. meta tag from html.
SALESmanago - AI Customer Data Platform with Omnichannel Execution
Average rating:
0 reviews
If you need more information about the topic mentioned above, please contact us:
support@salesmanago.com
+1 800 960 0640