Preview the content of the conversation with each individual user. Analyze conversations statistics and check if your communication channels are effective. Browse individual conversations with customers to further personalize your approach to them.
In order to open the Individual message list, go to
Mobile Marketing => Individual message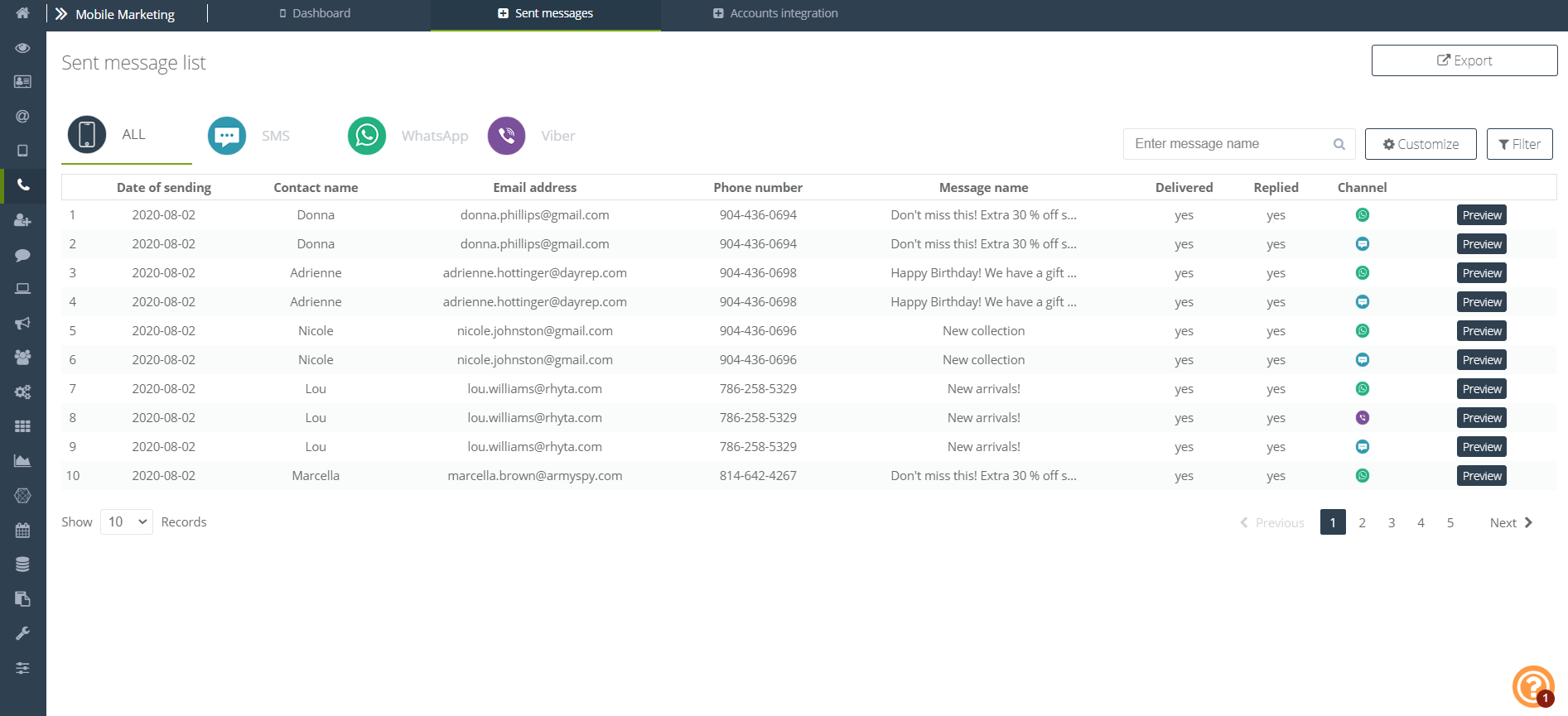 ---
The list of individual sent messages allows you to preview the appearance of messages sent by a chosen messenger and presents all the most important information about the sending. Each message sent from your account to an individual contact is a separate line of information.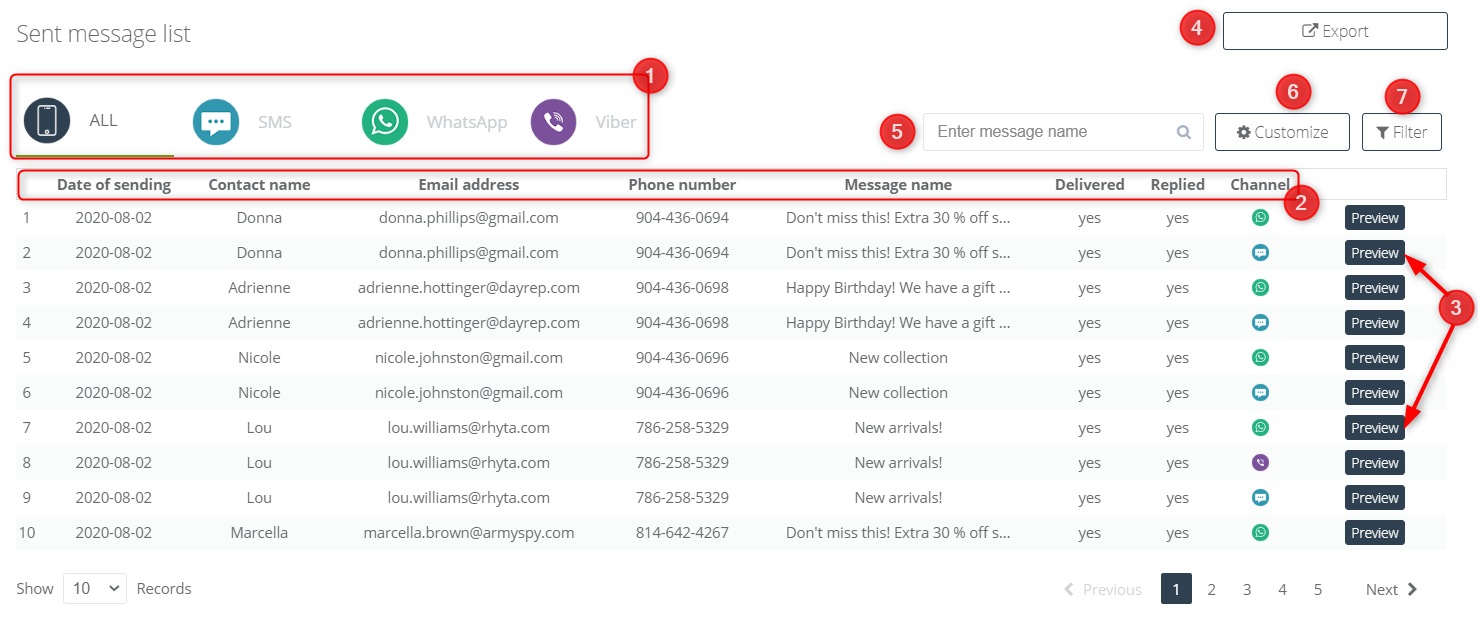 [1] Channel – a specific channel to shorten the list to the sendings via it, or select the option to view a list of all messages.
[2] Column elements – the most important information about the message is displayed under the tiles. The available tiles are:
Date of sending

Contact name

Email address

Phone number

Message name

Delivered

Replied

Channel – displayed as an icon:
You can adjust the table to your preferences at any time by adding or removing options from it.
[3] Preview – you can preview sent messages to the contact in each communication channel. Additionally, if the sending was done via WhatsApp, Viber, or one of these SMS gateways:
SMSAPI

SerwerSMS.pl

SITmobile S.L.
then you can view the entire conversation, including the contact's replies: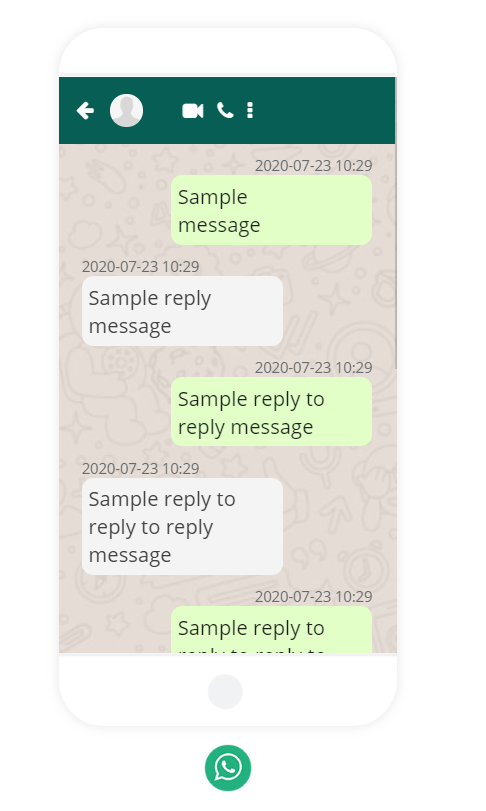 [4] Export – export messages: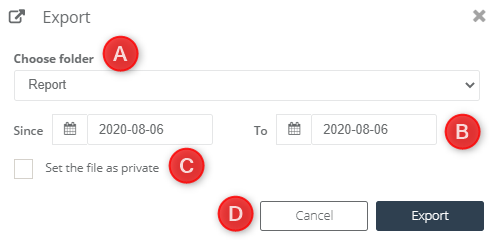 [A] Choose folder – choose the folder to which you want to do the export.
[B] Time period – select the time period from which you want to do the export of messages.
[C] Set the file as private – if you set the file as a private, only you, as an owner, will have access to the exported messages.
[D] Export – confirm all information and run an export in the background.
[5] Enter message name – enter the whole name of the message, or its part, to shorten the list of sent messages to those searched.
[6] Customize – the button allows you to arrange table elements in any way you want, delete, and add them.
Click the "+" button that appears in the bar with the names of individual tiles to edit them.
[7] Filter – allows you to filter messages and shorten their list to those that:
has been sent

from this account

has been

scheduled

are marked as

birthday

messages

are marked as

test

messages
If you need more information about the topic mentioned above, please contact us:
support@salesmanago.com
+1 800 960 0640