Integration between SALESmanago and Zoho CRM incluces the synchronization of the information about contacts such as: name, email, phone, state, fax, address, company, birthday.
To view contact card go to CRM -> CONTACT LIST -> DETAILS.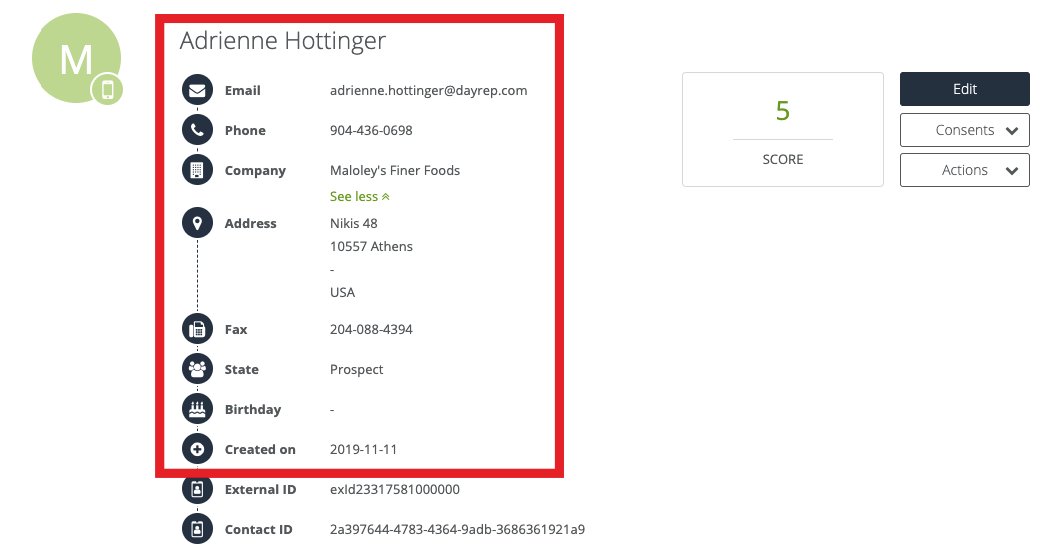 If in SALESmanago a contact's state will be set as "Client" then in ZohoCRM it will be place within contacts and it's card will be look the following:
NOTE: In both, SALESmanago, and ZohoCRM contacts owner and leads are differentiate differently. To synchronized then and make them assigned to the same owners you need to have in both accounts that are set on the exact same email address. If not, the contacts will be assigned automatically ot he main user. 
---
The change in the state 
Contact states are different in SALESmanago then those from Zoho CRM: in SALESmanago  you can find "Prospect" and "Client", while in Zoho CRM "Leads" and "Contacts". If you change contacts state in SALESmanago, they will automatically change their state in Zoho CRM. 
For example "Client" in SALESmanago will be changed to "Contact" in Zoho CRM. If you decide to change state in Zoho CRM, the state will be automatically changed in SALESmanago as well.  
---
Opt-in / opt-out
The data synchronization involves the changes in the state subscription as well – the change in one system will couse the change in another.
---
Synchronization schedule
During the first synchronization all contacts will be downloaded. Every other synchronization will take place every 6 hours: 6:00 am, 12:00, 6:00 pm and midnight. 
---
Description of the synchronization
The communication with Zoho CRM can be done through API.
Additional information: API may have some limits (it all depends on the account type). During one session you can send up to 200 records and gain 100. 
---
Integration:
In SALESmanago go to Settings -> Integration -> Zoho CREM and:
check the option "Enable Zoho CRM Integration"
type adres email of your Zoho CRM account
click "Save"
and next click" Sign in"
Next, you will be redirected to Zoho CRM, where you will be able to configure integration settings.

Support SALESmanago - Customer Engagement Platform for impact-hungry eCommerce marketing teams
Average rating:
0 reviews
If you need more information about the topic mentioned above, please contact us:
support@salesmanago.com
+1 800 960 0640