We assembled our leading eCommerce experts, working on a daily basis with some of the world's biggest brands, to completely redesign Workflow templates in our library. They've put thousands of hours of their expertise into new, improved templates, to save you time. On top of this, we added Workflow Generator to the Library—the first such feature on the market, enabling you to activate the most accurate template in just a few clicks!
---
Contents
---
1. Getting started
A well-designed Workflow can get the best out of every marketing channel. It automates tasks and consistently helps achieve marketing goals.
However, creating the perfect template requires a lot of time and knowledge about the capabilities of the used platform and marketing processes. Knowing this, we have assembled our leading experts, who work with brands such as Starbucks, Vodafone, Lacoste, KFC, New Balance, and Victoria's Secret. We asked them to translate their immense experience into effective tools—Workflow templates that provide precise execution in every communication channel and actually help solve eCommerce challenges.
The Workflow Library can be navigated through filters, but it doesn't stop there. To save even more time, you can use our unique generator.
---
2. How it works
To use Workflow Generator, go to:
Automation Processes → Workflow → Workflow Library
Then, follow the steps to get your templates.
1. Use Generator

2. Pick a goal

Pick the goal you want to work on at the moment from the list of goals. Use the [A] arrows to navigate between steps.
3. Specify the channel you want to focus on

Pick one channel, or Omnichannel for more advanced campaigns.
4. Specify the tactics

Set one or more tactics. This step is optional. Click Summary to see Workflows for all tactics.
5. Generate

Check your settings and if they are correct, click Generate. Otherwise, use the arrow to go back and readjust your choices.
6. From the suggested list, choose a template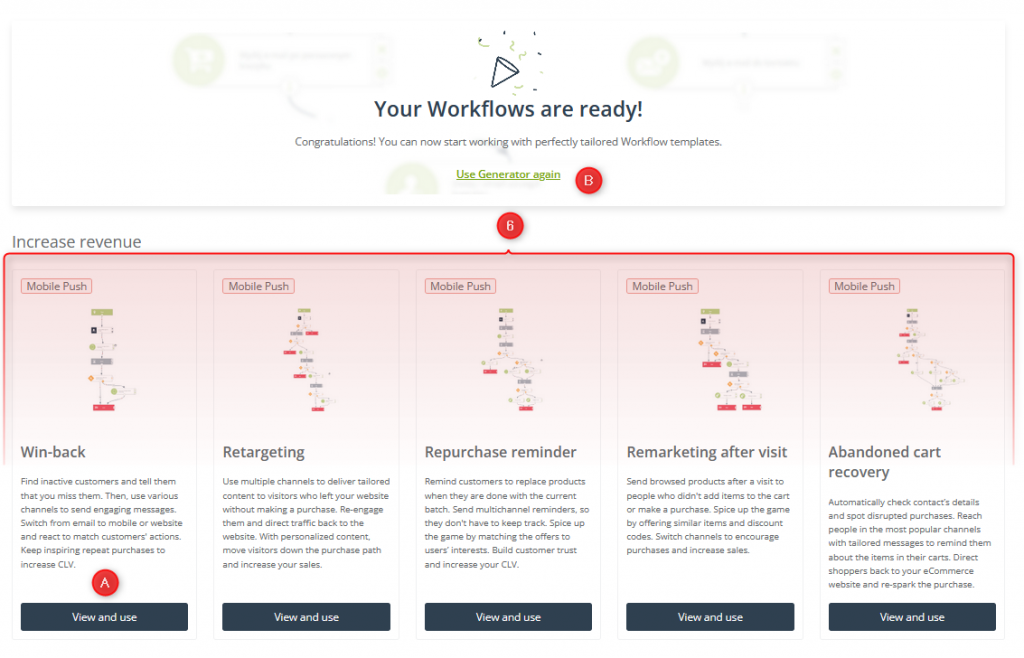 Browse the list and choose the best templates for you. To preview the details and use the template, click [A] View and use. If you want to generate a new set of templates, [B] use the Generator again and change the settings.
7. Use the template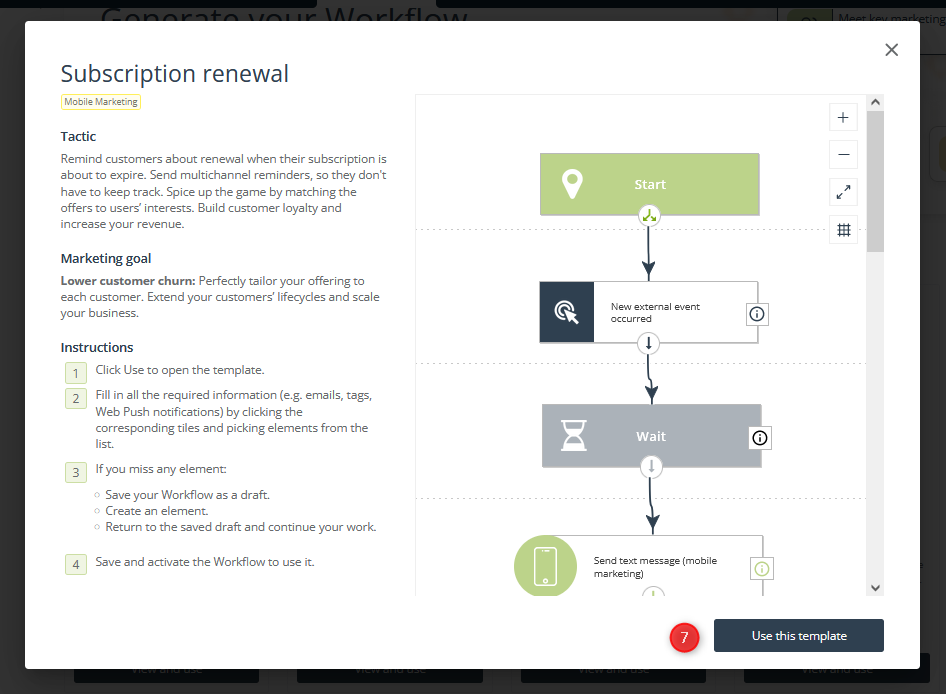 When you find a template you want to work with, click Use this template. Fill in all the required information (e.g., emails, tags, Web Push notifications) by clicking the corresponding tiles and picking elements from the list.
If you miss any element:
Save your Workflow as a draft.
Create an element.
Return to the saved draft and continue your work.
Save and activate the Workflow to use it.
---
3. Use cases
Leverage expert knowledge and make the most off your marketing channels.
Set a marketing goal and communication channel. Select the tactics you want to use in your chosen situation. Review the list of applicable templates and choose the one that works best for you. Fill in all the required information (e.g., emails, tags, Web Push notifications) by clicking the corresponding tiles and choosing elements from the list. Save and activate the Workflow to use it.
Select only a marketing goal and communication channel, and then generate a list of all possible tactics for these combinations. Get inspired to create your own, even more advanced Workflows that will use the collected eCommerce know-how.
If you want to explore a wider selection of templates, browse the entire library. Use a set of filters to help you manually narrow down the list of results to the ones you need.
Pick one target at a time and see how efficiently you can execute it in single channels, or complete omnichannel sequences. You don't have to come up with your own templates. All you have to do is match the ready-made ones with the right content and activate the campaign.
If you need more information about the topic mentioned above, please contact us:
support@salesmanago.com
+1 800 960 0640