Unlock the potential of artificial intelligence thanks to the SALESmanago API integration with ChatGPT by OpenAI.
Artificial intelligence can help you produce high-quality email content that engages and resonates with your target audience. ChatGPT's language generation capabilities can assist in creating compelling subject lines, email introductions, and call-to-action phrases that drive higher open and conversion rates, but also other types of text content. Overall, ChatGPT can significantly speed up your work and enhance the effectiveness of your emails.
This article explains how to use the AI Studio: a SALESmanago tool that will help you generate relevant text tailored to your specific needs.
Interesting fact: This introduction was partially written by AI.
NOTE: ChatGPT API services are paid. However, the pricing is more than attractive, considering how much time it can save you. The payment system is very flexible and you pay only for the resources you use. Read more on the OpenAI website >>
---
Contents
---
1. Getting started
Text content can be crucial to an email's effectiveness, but creating original and engaging content can be a challenge. Now you can use a new source of inspiration: ChatGPT, a language model developed by OpenAI.
SALESmanago has integrated ChatGPT into its Drag & Drop Email Designer and the Email Design Studio. Whenever you need a hand in creating text content, navigate to the AI Studio and let artificial intelligence do the "thinking".
To access the AI Studio in the Drag & Drop Email Designer, when editing an email, simply select the right-most tab: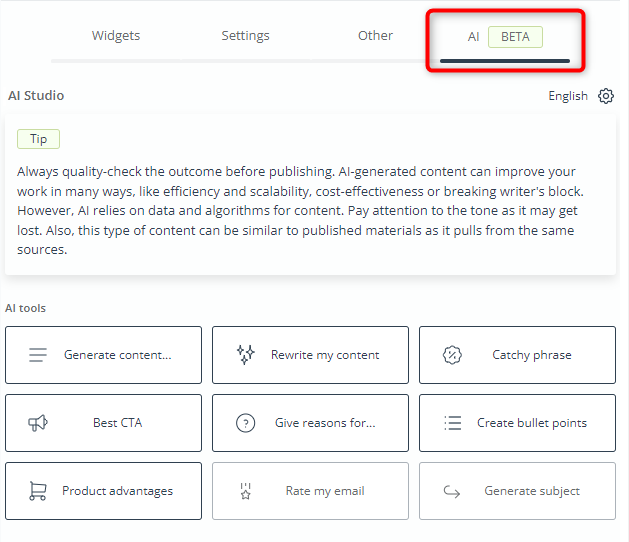 To access the AI Studio in the Email Design Studio >>, simply select the appropriate tab on the left-hand menu: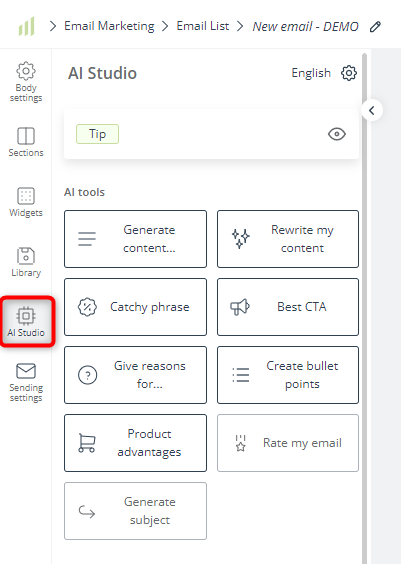 Read this article to learn how to start using the AI Studio and how it can help you in your work.
---
2. Integrate your OpenAI account
To use the AI Studio, you need to have an OpenAI account.
Read how to create an OpenAI account and how to integrate it with the SALESmanago AI Studio >>
NOTE: Before you create an OpenAI account and integrate it with the AI Studio, you can try the free demo version, which allows you to enter up to 20 queries.
---
3. How to use the AI Studio
Start your work with the AI Studio by going to Settings and selecting the language [A] in which you want to generate content. You can also specify the maximum number of tokens [B] that you want to spend on one query.
Visit the OpenAI website for an explanation of tokens >>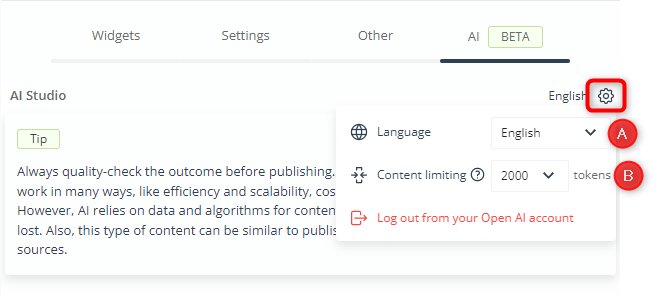 Next, go to the AI tools to select the task you want to pass to AI (the type of content you want to have generated or improved).

The AI Studio is designed to yield the best possible results with minimum input on your part, so all you need to do now is provide the details for your individual case.
After selecting an AI tool, you will see the type of request that will be submitted to AI [1] and an input field in which you can enter your query [2].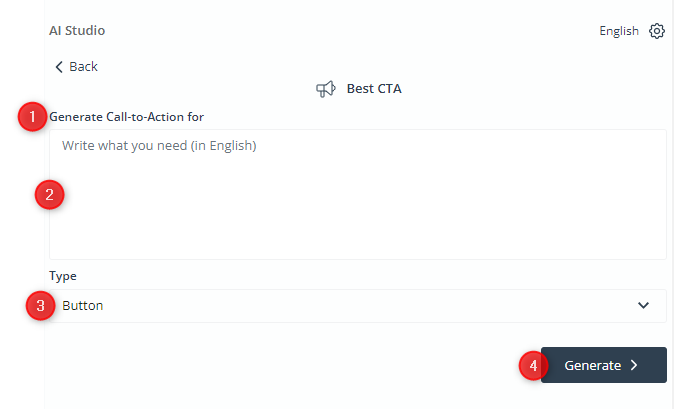 Some AI tools allow you to define an additional parameter [3]. In the example above (Best CTA), you can choose if the Call-to-Action is intended for a button or a headline. If you select the tool: Generate content…, you can specify the target length of the text. For the Rewrite my content tool, you can select the objective of the rewriting (e.g., "make it more marketable" or "improve grammar").
When you have specified your query, click Generate [4]. Wait until the AI Studio returns an output text.
IMPORTANT: Always quality-check the outcome before publishing it. AI-generated content can improve your work in many ways, like efficiency and scalability, cost-effectiveness or breaking writer's block. However, AI relies on data and algorithms for content. Pay attention to the tone as it may get lost. Also, this type of content can be similar to published materials as ChatGPT pulls data from various sources.
EXAMPLE: AI was asked to rewrite the introduction to this article to make it more marketable (using the tool: Rewrite my content).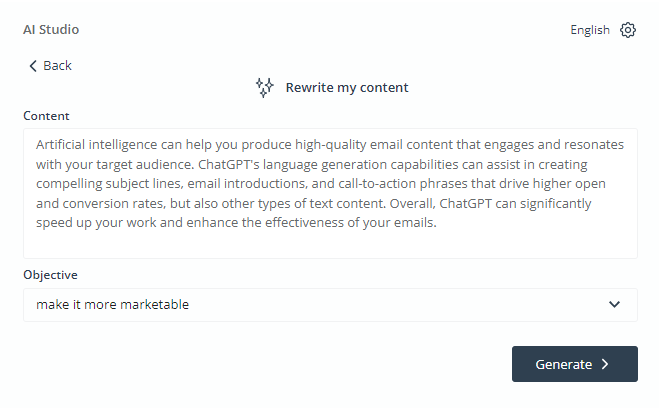 AI returned the following output: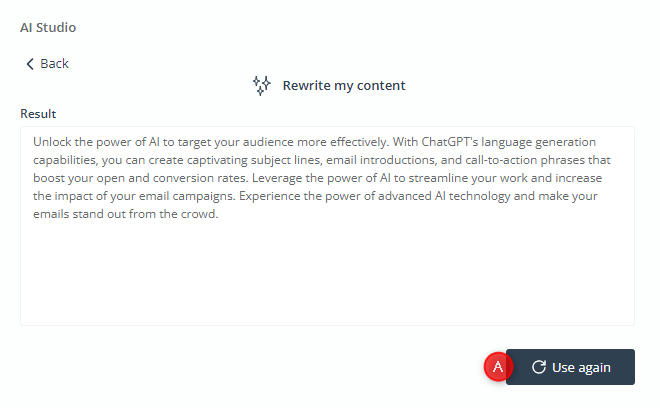 Click Use again [A] to use the same AI tool for entering the same or a different query.
TIP: In each of the AI tools, you can enter the same query again and again, and each time AI will generate a different output. You can do this until you are satisfied with the result.
NOTE: Sometimes, after clicking on Generate, ChatGPT may return the information that your query could not be processed, for example: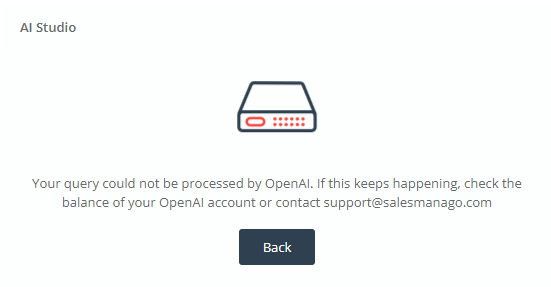 There are a number of possible reasons why this can happen, including, in particular:
Server overloading—Due to ChatGPT's immense popularity, OpenAI's servers may sometimes experience excessive demand, resulting in temporary overloading.
Your account balance—Make sure that you have sufficient funds on your OpenAI account.
Technical issues—In rare cases, technical issues may prevent ChatGPT from generating a response.
Breach of OpenAI's policy—OpenAI's policy prohibits the use of its language models for illegal or harmful activities. Additionally, OpenAI's language models are not designed to provide personalized professional advice. Therefore, queries pertaining to prohibited topics or requesting personalized advice will not be answered.
If you need more information about the topic mentioned above, please contact us:
support@salesmanago.com
+1 800 960 0640