If you have configured your SMS gateway and imported birthdays and cell numbers of your contacts, you can then have automatic emails sent to them on their birthday.
To import we have to have a column in our Excel file that has the birthday in the format, YYYYMMDD or MMDD.
1. For example; 19870717 or 0717 and the cell number (2).

You also need to have the information about the date of birth and phone number on a contact card.
HOW TO SEND BIRTHDAY SMS
Go to MOBILE MARKETING -> BIRTHDAY SMS -> ADD NEW BIRTHDAY SMS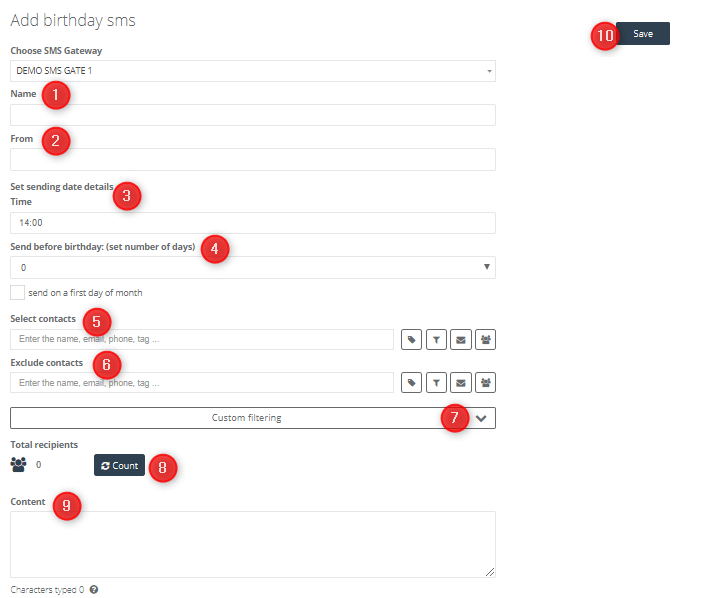 [1] Name – name that will identify the sending in the system.
[2] From – define the sender – the information will be displayed to the user.
[3] Time – define at what time the birthday SMS will be sent.
[4] Send before birthday – you can set a message to be send days before the actual birthday.
[5] & [6] – define the recipient group to which you want to send the SMS. You can exclude contacts from the recipient group analogically. The process of selecting recipients is the same as for email campaigns.
[7] Use custom filtering – it allows you to choose recipients of the message by means of additional filters More information
NOTE: SMS can be sent only to contacts for whom have a telephone number in the "telephone" field on their contact card. It is recommended to enter only one telephone number per contact in this field.
[8] Count – counts an estimated number of people, who will receive an SMS message.
[9] Content – provide the content for the birthday message.
[10] Save – to save and activate birthday SMS click "save".
If you need more information about the topic mentioned above, please contact us:
support@salesmanago.com
+1 800 960 0640