WHAT IS A TRACKING CODE
Monitoring (or tracking) code lets the SALESmanago system gather data on a website. This makes it possible to track user activity on your website. It's necessary to implement the tracking code in order to take advantage of the full system potential. Each of our clients gets a unique monitoring code when they activate their account. A tracking code is necessary for the system to function properly. One website can only have one tracking code, but you can use the same tracking code on multiple websites.
Benefits:
identification and monitoring visitors on your website
monitoring the effects (open rate and click-through rate) of your email marketing
automatic display of live chat on your website
automatic display of pop-ups on your website
You can add
the SALESmanago home dashboard where the code appears until you implement it on your website.
in the Settings menu, in the Integration tab (always available).
---
HOW TO ADD A MONITORING CODE TO A WEBSITE
You can add the monitoring code with Google Tag Manager provided you have already created an account there. Right after you click Add, you will be redirected to login site to Google Tag Manager, log in using your email address.
After you log in to Google Tag Manager, you need to create a container and there the monitoring code will be added. All containers from the Google Tag Manager you can find in the newly created Google Tag Manager (that you can find in Integrations). Unfold the Workspaces list to add the monitoring code to the container.
You only need to click Add monitoring code and it will be added automatically. In Google Tag Manager you will find information about the monitoring code added to a particular container.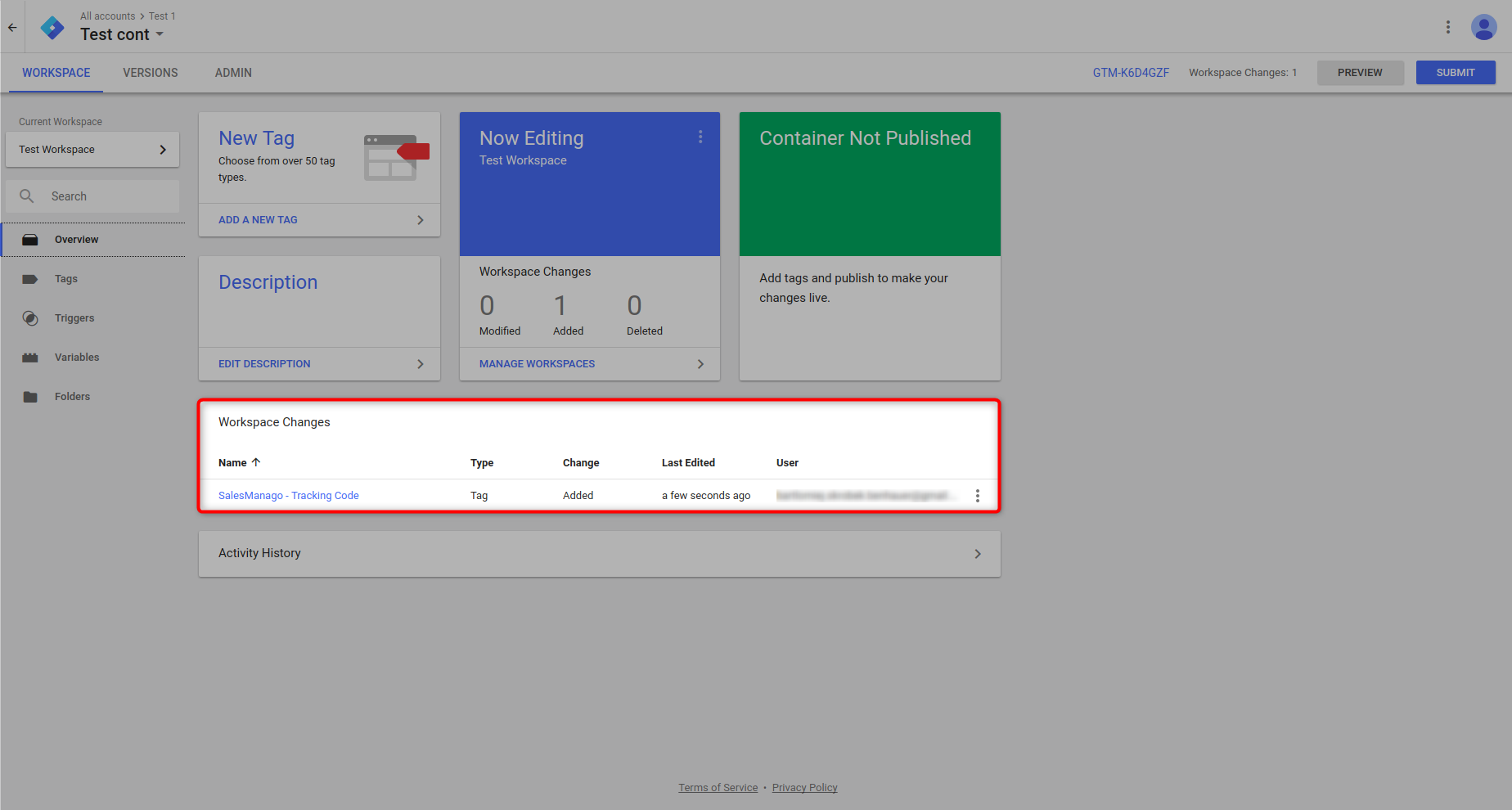 If you need more information about the topic mentioned above, please contact us:
support@salesmanago.com
+1 800 960 0640