SALESmanago Mobile is a modern module for monitoring mobile applications. 
Use the customer's mobile device to deliver your 1-to-1 offers anywhere they are. Track app usage, build dynamic behavioural segments, and send truly omnichannel campaigns.

Instructions:
To integrate SALESmanago Mobile with SALESmanago, sing into your SALESmanago account and go to Settings → Integration and find the SALESmanago Mobile tab [1].
Click Connect with SALESmanago Mobile [2]. If the authorization is successful, the following notification will appear.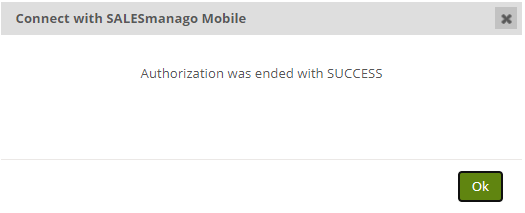 Sign into your SALESmanago Mobile account and in the main menu, go to Settings → SALESmanago.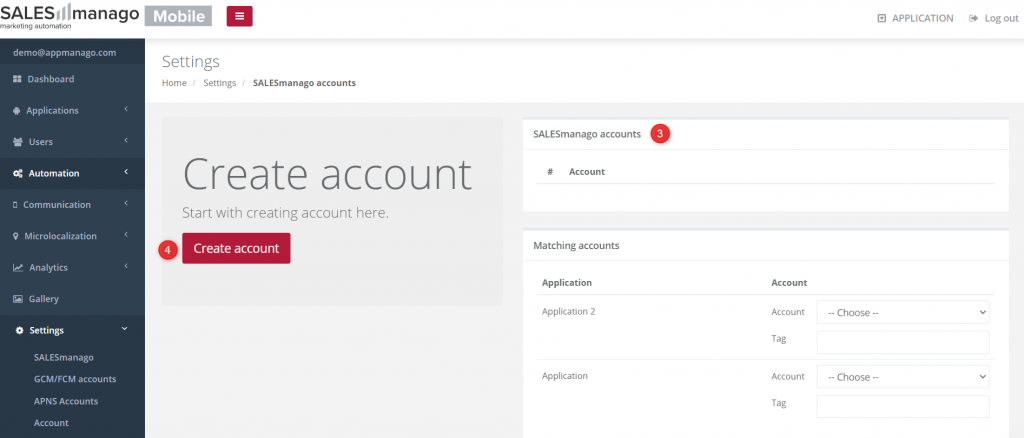 From the list [3] choose your SALESmanago account. If you do not have an account yet, you can create it by clicking Create account [4].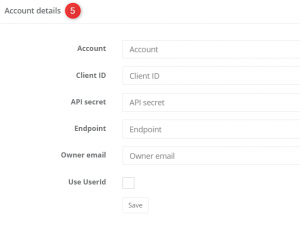 After you choose an account, this window will appear [5]. Fill in all empty fields.
Account – enter the name of a SALESmanago account you want to integrate (this links it to a particular app)
Client ID – available in SALESmanago in Settings → Integration.
API secret – available in SALESmanago in Settings → Integration.
Endpoint – available in SALESmanago in Settings → Integration.
Owner email – enter the email address of the default owner of contacts in SALESmanago
Use UserId – advanced additional option which one allows you to use an individual user account number instead of the email address. If you need more information about it feel free to contact us via success@salesmanago.com 
Then click Save.
TIP: You can connect multiple SALESmanago accounts to one SALESmanago Mobile account. All connected and authorized accounts will appear in Settings → SALESmanago on the list SALESmanago Accounts.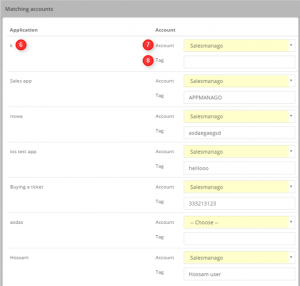 After you save the data, the systems will be integrated. In Settings → SALESmanago, you can find a complete list of Matching accounts. You can use it to specify which mobile apps [6] are connected to which SALESmanago accounts [7] and which tag [8] will be assigned to contacts generated with that app (one app can only assign one tag).
You can view the generated contacts and their tags in SALESmanago on their contact cards.
After the integration, you will be able to create automation rules that use data gathered by SALESmanago Mobile
If you need more information about the topic mentioned above, please contact us:
support@salesmanago.com
+1 800 960 0640