SALESmanago offers you a simple way of viewing detailed statistics of mailings you have sent.
To view the summary of your emails, go to Email Marketing → Sent Email Analytics.
To view emails sent via automation rules, go to Automation Processes → Automation Email Analytics.
The system will display a report on all emails sent recently.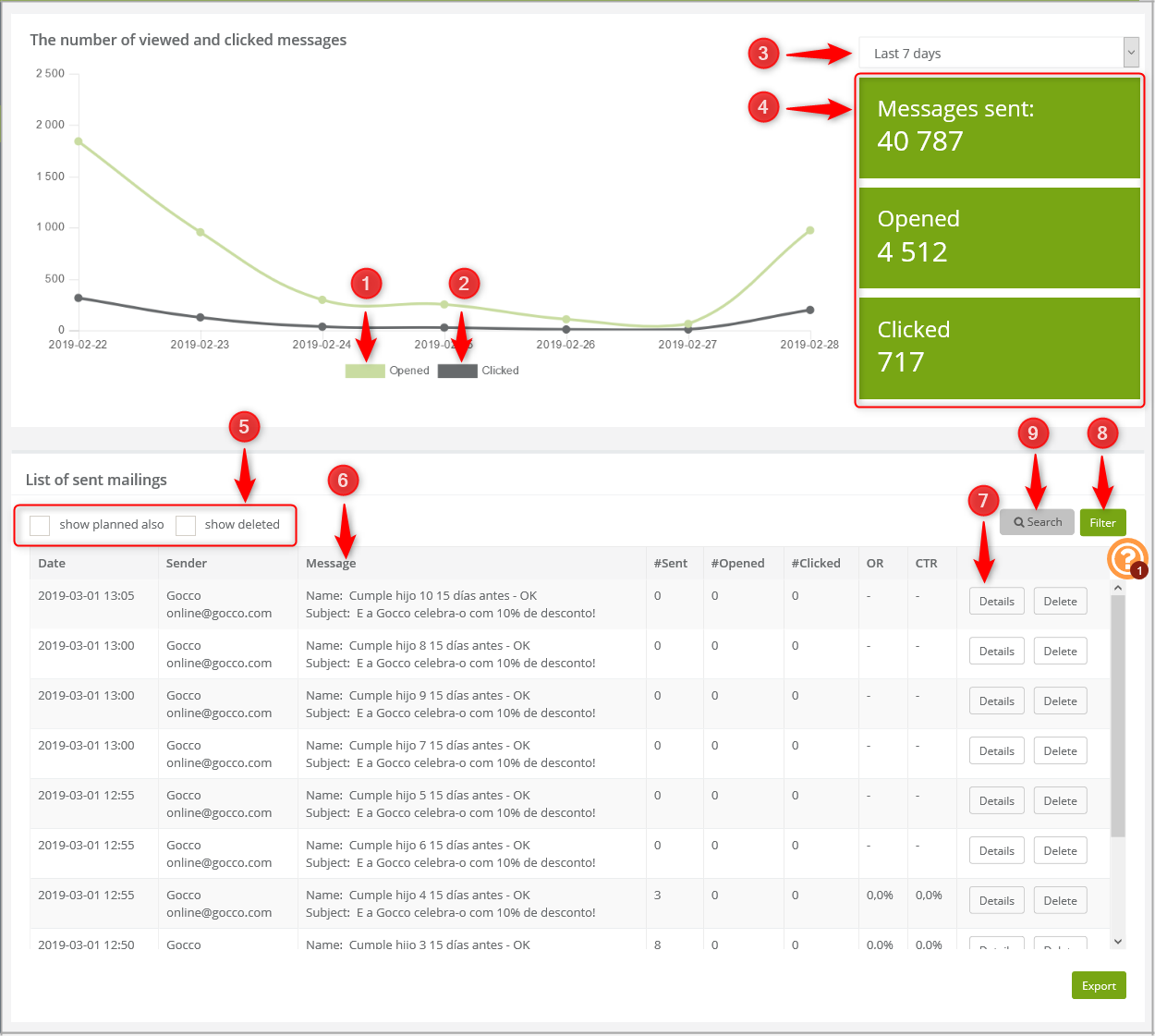 [1] Emails opened – all recently sent emails that were opened (white function on the chart).
[2] Emails clicked – all recently sent emails that were clicked (green function on the chart).
[3] Time period – choose the time period you would like to display statistics for. Options available: the last 7 days, the last 30 days, the current month, the previous month, the current quarter, the current year, the previous year.
[4] Statistics – here you see the number of sent, opened and clicked messages.
[5] Show planned and deleted mailing – when filtering you can see planned and/or deleted emails.
[6] Message – a table with a list of already created emails along with their basic information.
[7] Details – click this button to see detailed information of a selected email.
[8] Filter – this option enables to filter emails by:
all mailings
sent from this account only
mailings
advanced filtering by: sent, opened, clicked.
[9] Search – use this option to search for a message by name or by subject. Type in the name and choose the time period from which you wish to display a message.
---
After selecting details of a particular email, you will be redirected to its mailing card.

[1] Basic information – message subject, displayed sender, sender's email, email account.
[2] Preview and "clicks map" – click to display the message preview or the clicks map.
[3] Extra information– date and time of creating and sending selected message, its user and other information like "sent as mailing".
[4]:
Export – export statistics related to this particular email.
Mark as test – mark the message as a test, when this option is used, the information about this emailng will not be taken into consideration in the general mailing statistics.
Delete – deletes the message.
[5] Adressees number – number of adressees of your e-mails
[6]:
Adressees– these are contacts who are selected by tags or selectors.
Excluded adressees– these are contacts who are excluded by tags or selectors.
Custom filtering– this advanced option enables for example, sending an email to a contact who has only one of selected tags or it can be specified what percentage of contacts fulfilling conditions should get an email.
When you go to the Analytics, you see a window with three statistics.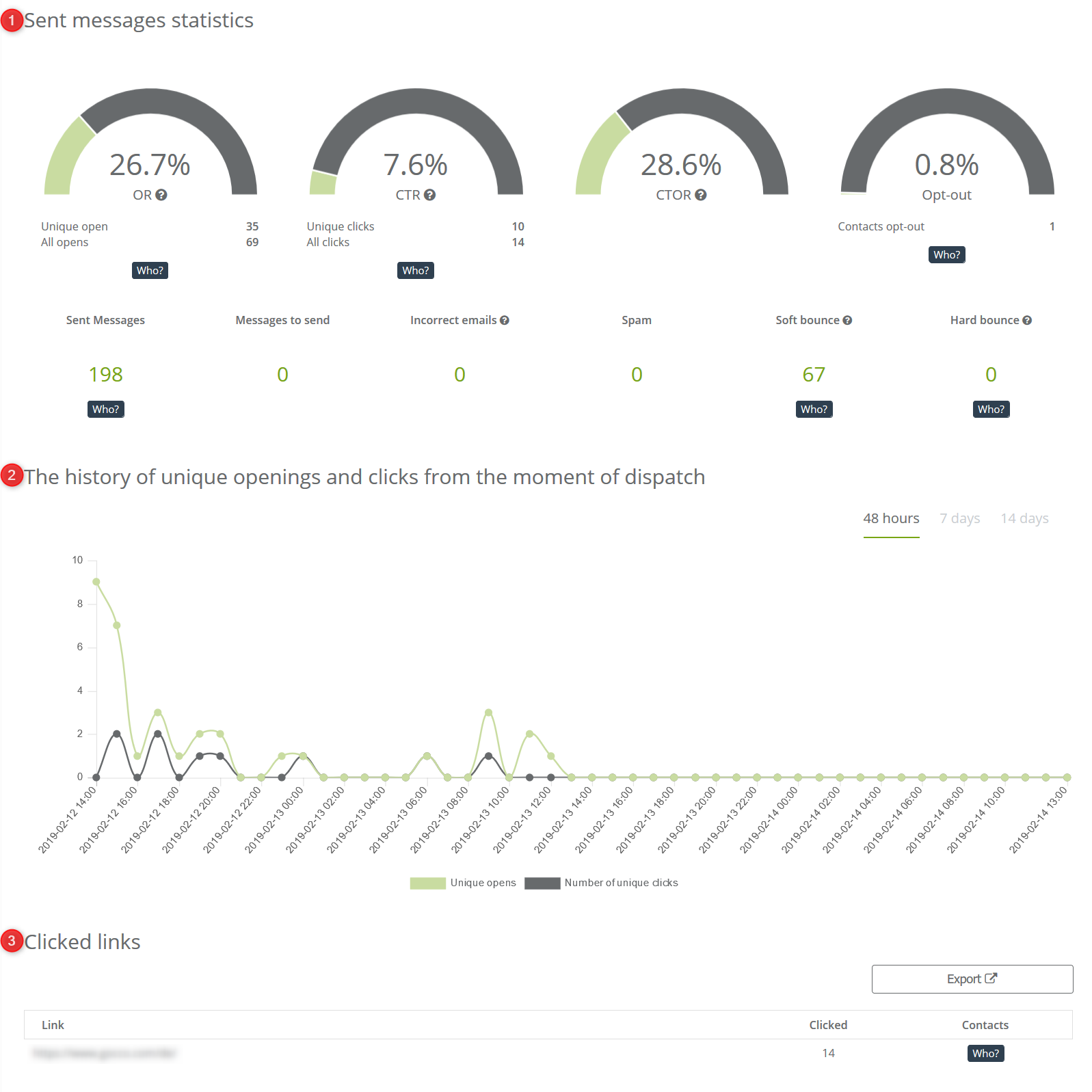 [1] Sent messages statistics – in this section you can find the following information: OR , CTR , CTOR , number of sent messages, messages to be sent, incorrect email addresses , soft and hard bounce .
[2] The history of unique openings and clicks from the moment of dispatch – in this section you can see number of unique clicks and openings in the graphic form. Data can be presented for three time periods: 48h, 7 days, 14 days.
[3] Clicked links – in this section the following information can be seen: list of clicked links, number of clicks, contacts who have seen particular links (when you click "Who?").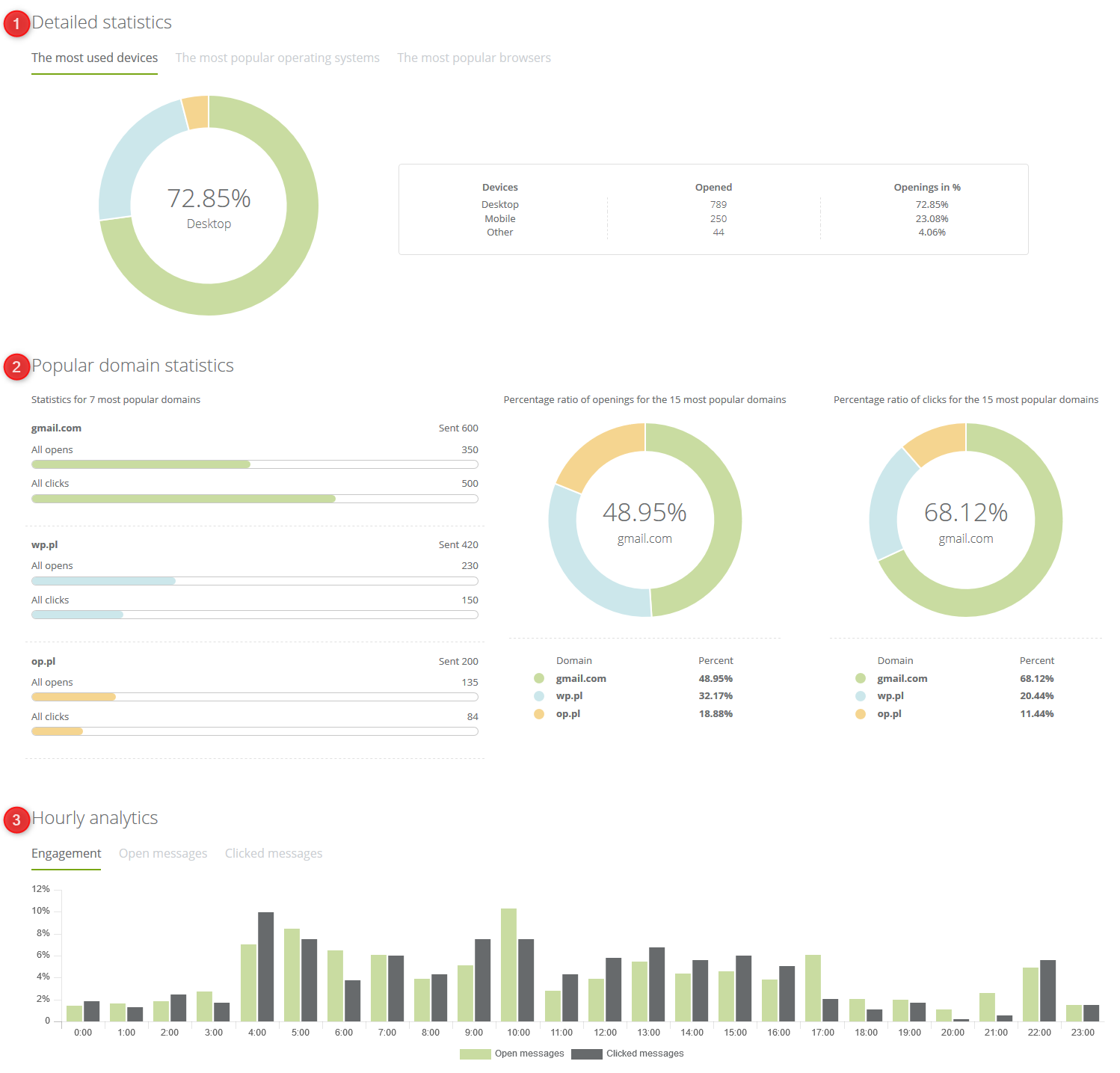 [1] Detailed statistics – in this section you select one of the following: the most used devices, the most popular operating systems, the most popular browsers. You see data in both numbers and as a graphic.
[2] Popular domain statistics – in this section only 7 most popular domains are taken to the statystics – all openings and all clicks. Moreover, on the right-hand side you can see data concerning percentage contribution of clicks and openings of each domain (only 15 domains are analyzed).
[3] Hourly analytics – in this section you can decide which of the following options you are interested in: Engagement, Opened messages, Clicked messages. In the Engagement tab you can see percentages what gives you detailed knowledge when exactly the message is opened and clicked. In consequence, you get information about all openings compared to openings at a particular time, as well as information of all clicks compared to clicks at a particular time.
If you need more information about the topic mentioned above, please contact us:
support@salesmanago.com
+1 800 960 0640