Web Push Notifications | Marketing Uses
Web push notifications are short messages that you send straight to the device of the person you want to reach. You can send them immediately or schedule them to be sent on a specific date. A Web Push notification consists of a small icon, a title, and a short message, and if you choose the Rich Web Push variant, then it will also have attractive graphics that come in a larger size. The notification redirects the recipient to the selected website. Web Push notifications are displayed when the browser is launched, even outside your website. What's more, Web Push notifications don't require subscribers to leave personal information—all you need is permission to receive the notification.
---
Contents
History of Web Push Notifications
Web Push Notification Types
Consent to Receive Web Push Notifications
Benefits of Using Web Push Notifications
Web Push Notification Compatibility
Web Push Notification Use Cases
---
1. History of Web Push Notifications
When they first appeared, Web Push notifications were an interesting alternative to other marketing communication channels. They allowed marketers to quickly reach even those customers who didn't leave their email addresses. The great advantage of Web Push notifications was that they were displayed on screens even when the recipients were using a browser but were not on the sender's website or social media profile.
Over time, it turned out that the recipients appreciated this type of communication and responded very well to the messages. In addition, the better the notifications are tailored to their needs, the more engagement and profits these notifications generate.
In this situation, it becomes challenging to make Web Push notifications even more effective, easier to implement, and tailored to consumers' needs. That being said, combining them with AI-driven recommendation engines and CDP data brought Web Push notifications to a whole new level.
---
2. Web Push Notification Types
There are two versions of Web Push notifications:
Web Push Notification
This is a sample Web Push notification displayed on the Chrome web browser (icon, title, and content). Its design may vary depending on the browser it is displayed on because the capabilities of Web Push and Rich Web Push notifications are regulated by both the operating system running on your device and the browsers themselves.

Rich Web Push Notification
A Rich Web Push notification is an extended version of a Web Push notification. It allows you to communicate in a nonstandard way, even with anonymous users. Although standard Web Push notifications allow you to place short text next to a small graphic, the rich version appears on the screen as an attractive banner with a large image.
Comparison of sample Web Push and Rich Web Push notifications (displayed in Chrome)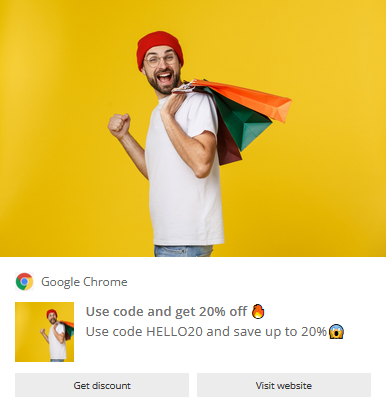 The visual form of the notification may vary depending on the browser on which it is displayed because the capabilities of Web Push notifications and Rich Web Push notifications are regulated by both the operating system running on a particular device and the browsers themselves.
Web Push and Rich Web Push notifications are linked to the indicated landing page. What's more, both types of notifications can come with two additional buttons that link to different websites. Note, however, that not all browsers will display the buttons or distinguish between the links. The default link for each notification will be the one that is connected to the entire notification. You can find detailed information about displaying buttons in different browsers in the Web Push Notification Compatibility section.
Both types of notifications can come in static and dynamic forms. Dynamic Web Push notifications contain personal, customer data-based recommendations that can be sent as both mass and one-to-one communication formats.
---
3. Consent to Receive Web Push notifications
Web Push notifications can be sent to any user who agrees to receive them via a consent form. Read more about Web Push notification consent forms >>
This is what a sample Web Push notification consent form looks like.

Web Push notifications are sent by a browser. The monitoring cookies assigned by SALESmanago are not associated with the notification consent cookie. This means that simply clearing the cookies will not remove the consent to send notifications. After clearing cookies and re-entering the website, the user will see the consent form again, and notifications will be sent to them, regardless of whether they consent to them again.
---
4. Benefits of Using Web Push Notifications
There are many benefits of incorporating Web Push and Rich Web Push notifications into your marketing communications. The following are some of the most important ones:
Reach and engage both anonymous and identified customers by offering them bespoke content – This includes multilanguage versions of notifications and consent forms in one of the best consent-based communication channels through personalized Web Push notifications.
Use multifaceted CDP data to hyper-target your campaigns and enrich your omnichannel strategy – Choose whether you prefer to communicate with consumers using desktop, mobile, or both.
Increase the group of your recipients – Except for opt-in users, you will also address nonmonitored users, those with opt-out status, or even those who are not in your database. A notification will be sent to everybody who accepts a notification, and you will have the opportunity to convert anonymous users into identified contacts.
Stay in touch with the users that are interested in your offer but not ready to leave their contact data yet.
Send notifications directly to a recipient's device in real time – This can result in a 30 times greater click rate than in the case of an average email.
Benefit from the codeless implementation of a simple yet powerful tool that enables the creation of effective campaigns.
React to contacts behavior – You can create a notification as an action to a selected event in automation rules. Read more about the action: Send a Web Push notification >>
Enjoy a wealth of features – These include one-to-one personalization, detailed analytics of the campaigns, or the option to select the device to which you want to send Web Push notifications.
Target multiple markets at once – Create various language versions of consent forms and notifications in one easy step.
And if you additionally opt-in for dynamic notifications:
Complete your marketing strategy with dynamic Web Push notifications, which are brief, customer data-driven, and multilanguage messages with personal recommendations displayed in a browser window that can be sent as both mass and one-to-one communication formats.
EnRich multilevel workflow processes with CDP-personalized dynamic Web Push notifications as part of the omnichannel customer experience.
Leverage advanced CDP data-driven targeting options and send perfectly personalized notifications to identify subscribers in your database.
Upgrade your mass remarketing with AI-driven personal recommendations and encourage subscribers to revisit your website.
Amplify in-store revenue with dynamic, automated one-to-one Web Push notifications based on past visits and customer preferences.
Boost relationships with your customers by sending perfectly tailored messages with meaningful content to improve their customer experience.
Analyze how the engagement created with one-to-one and mass dynamic Web Push notifications translates into sales.
---
5. Web Push Notification Compatibility
At the moment, Web Push notifications in SALESmanago are supported on the following:
| | | | | |
| --- | --- | --- | --- | --- |
| | Chrome | Firefox | Safari | Opera |
| OSX | Yes | Yes | – | Yes |
| iOS | – | – | – | – |
| Android | Yes | Yes | – | Yes |
| Mac | Yes | Yes | – | Yes |
| Windows | Yes | Yes | – | Yes |
| Linux | Yes | Yes | – | Yes |
In the case of Rich Web Push notifications sent from SALESmanago, the compatibility looks as follows:
| | | | | |
| --- | --- | --- | --- | --- |
| | Chrome | Firefox | Safari | Opera |
| OSX | – | – | – | – |
| iOS | – | – | – | – |
| Android | Yes | – | – | Yes |
| Mac | – | – | – | – |
| Windows | Yes | – | – | Yes |
| Linux | Yes | – | – | Yes |
Buttons
Buttons on Web Push and Rich Web Push notifications are only supported in Chrome and Opera (on any operating system). However, it should be noted that Opera does not distinguish between links, and even if you use different ones, the contact will be redirected to the main link of the notification.
---
6. Web Push Notification Use Cases
How can you use Web Push 2.0 notifications in eCommerce to engage customers and increase sales? The following are some ideas:
Complete your omnichannel and use fast, dynamic Web Push notifications to send your audience personalized, engaging content, bypassing busy inboxes and nonstop texting streams.
Easily prepare native or graphic consent forms and start using them immediately with no-code implementation.
Use the best practices of consent-based marketing. Gradually build trust and strengthen relationships with your customers, starting with notifications that don't require them to leave their contact details.
Prepare for incoming changes in the Google algorithm. Start using Web Push notifications as an alternative for pop-ups and forms. Avoid SEO penalties for inconvenient website content and still communicate with customers.
Circumvent the heavily used ad blockers. Leverage the fact that ad-blocking plugins do not have any effect on Web Push notification delivery and keep the conversation going with your clients, even if they are blocking ads.
Inform customers about price drops and special offers even when they aren't active on your website. Use Web Push notifications' multilanguage, AI-rich content to deliver users the information that will engage them and will result in higher conversion rates.
Leverage personalization and impulse buying to obtain higher conversion rates with personalized recommendations and abandoned cart Web Push notifications.
Use CDP data to address multiple stages of customers' relation with a brand: from new customer to an active client to a dormant customer with a high propensity of churn. Send Web Push notifications that are relatable, appealing, and engaging.
And for Dynamic Web Push notifications:
Complement your omnichannel campaign by sending customers compelling Dynamic Web Push Notifications to prompt them to go to a product page.
Increase your revenue by recommending products recently viewed on your site by sending personalized 1-to-1 Dynamic Web Push notifications to monitored subscribers of that channel.
Recover abandoned shopping carts with a new channel by sending visually appealing notifications containing automatically personalized offers with products left in the cart.
Prepare a mass Dynamic Web Push campaign where each of your monitored contacts will see perfectly personalized product recommendations based on their preferences.
Encourage your audience to return to your site by sending them tailored product recommendations via Dynamic Web Push notifications using advanced AI-based recommendation engines.
Conduct effective, personalized remarketing not only in ad networks and in your own store, but also in a browser-based channel that bypasses marketing consents and ad blockers.
Leverage CDP first-party data to personalize both the content and addressing of Dynamic Web Push.
If you need more information about the topic mentioned above, please contact us:
support@salesmanago.com
+1 800 960 0640