Mobile marketing relies mainly on the SMS channel. Thanks to SMS gateways it is possible to send various types of mass marketing messages: birthday SMS, discount codes, newsletters, forms and more. Gateways can be integrated with many different platforms, including SALESmanago. Mobile marketing improves conversion rates, makes targeting more precise and allows you to personalize SMS. After performing an account integration, you will be able to automate SMS processes and manage them effectively.
In order to configure your gateway go to:
SETTINGS → INTEGRATION → SMS GATEWAY
---
Supported gateways
Configuration of selected gateways
a) Tidesoftware
b) MATERNA mProfi.pl
c) Twilio
d) Dynmark
e) Eurocom
---
SUPPORTED GATEWAYS
Below you can see a list of operators with links to their respective websites, and countries they support. Each gateway operator covers a certain region with their service.
---
CONFIGURATION
In order to configure a gateway go to Settings → Integration → SMS gateway.

[1] Choose SMS Gateway – select an option from the drop-down list
IMPORTANT: If the provided telephone number consists of 9 or fewer characters, prefix is added as a default option.
[2] Shorten links in messages – check this option if you want to shorten the links. Remember that such links are more user-friendly and attractive. Format of the shortened link: http://esm.to/ or https://esm.to/ with 6 characters selected randomly and attached to it.
[3] Save – click it to save settings
---
CONFIGURATION OF SELECTED GATEWAYS
Tidesoftware:
In SALESmanago fill in the fields with data from your Tide account.: Customer ID, User ID, Password, Default Sender,
Important: the signature in the message will be taken from TideSoftware.pl even If we have different one set in SALESmanago.
---
MATERNA mProfi.pl:
In SALESmanago fill in the fields with data from your MATERNA mProfi.pl account: Username, Provider, Password.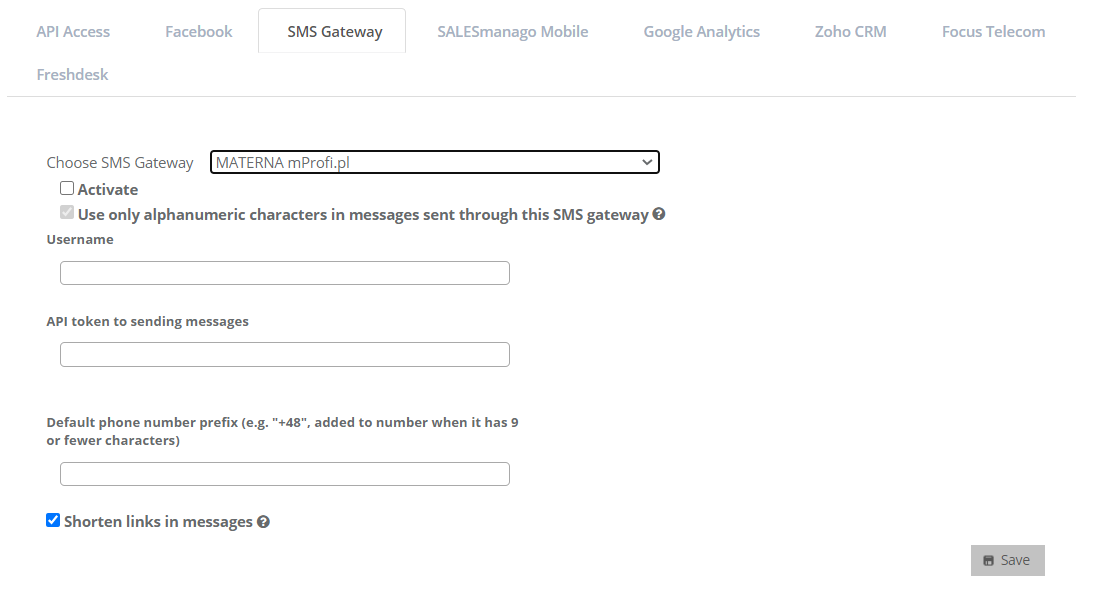 ---
Twilio:
In SALESmanago enter your Account Sid, Token, Sender (A number or Alphanumeric Sender ID registered on a Twilio account).
---
Dynmark:
Worldwide service provider from UK. This gateway is very easy to use, senders need just to provide a telephone number to send a message.
In SALESmanago, fill in the fields with data from your Dynmark account: login, password, and sender. (2-11 characters).
---
Eurocom:
You can use this service to send messages to Orange clients and in Lithuania countrywide.
In SALESmanago, fill in the fields with data from your Dynmark account: login, password, and sender. (2-11 characters)
---
If you need more information about the topic mentioned above, please contact us:
support@salesmanago.com
+1 800 960 0640