Condition is met when anonymous or monitored contact visits the website.
Go to AUTOMATION PROCESSES → WEBSITE AUTOMATION
---
In Website Automation go to the list of elements and then Condition → Anonymous/monitored contact on URL

In settings, you need to specify whether the condition refers to anonymous or monitored contacts.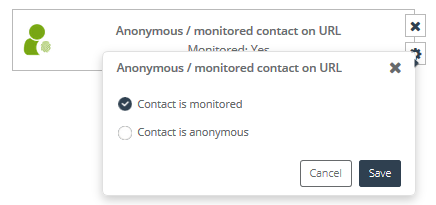 Click Save to continue.
You can use this element when you want the specified action to be performed for contacts with a specified status. For instance, a pop-up can be displayed for anonymous contacts only.
If you need more information about the topic mentioned above, please contact us:
support@salesmanago.com
+1 800 960 0640