The integration of SALESmanago with Facebook Ads can be used to create advertising campaigns and for sending contacts from SALESmanago. With the help of such integration you can also define a group of contacts on a basis of the already existing one in SALESmanago. You can also choose from the list an ad account that you want to work with.
How you can use integration with Facebook Ads:
To integrate SALESmanago with Facebook Ads you need to authorize a Facebook ad account.
Go to Social Media => Facebook Campaign and click Authorize button.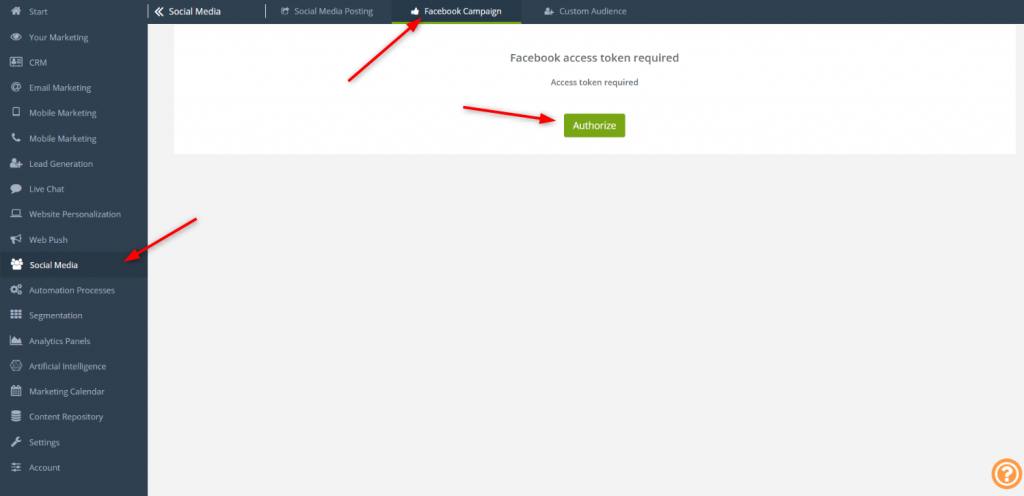 You will be asked to log into your Facebook ad account.
NOTE: remember to authorize an ad account, not your private one.
When you're logged in you will see the following screen:
[1] Choose what you allow – click here to view the available options than confirm your choice by clicking OK. Next step is to choose what exactly you will allow [2]
NOTE: When the Facebook account is successfully integrated with SALESmanago you will be redirected automatically to SALESmanago panel.

Next step is to in choose the ad account you just authorized [3]. From the list you can choose the account for which you wish to display statistics.
NOTE: If you would like to delete the integration click here >>
If you need more information about the topic mentioned above, please contact us:
support@salesmanago.com
+1 800 960 0640