Useful links
WooCommerce is the most popular E-commerce solution in the world. It is a flexible platform with an access to hundreds of free and paid extensions what gives both shop owners and developers full control.
THE SCOPE OF INTEGRATION
Export of contacts who logged in to the shop
Export of contacts who filled in a registration form
Sending contacts with tags after registration, logging in, purchase and subscription for newsletter
Monitoring contacts (as long as there is a tracking cookie smclient)
Recovery of URL with an abandoned cart
Addition of events (external events) – CART and PURCHASE – without logging in
PLUGIN INSTALLATION FOR WOOCOMMERCE PLATFORM
1. When you have your SALESmanago plugin installed, go to the plugin. You can find it in the menu bar on the left-hand side.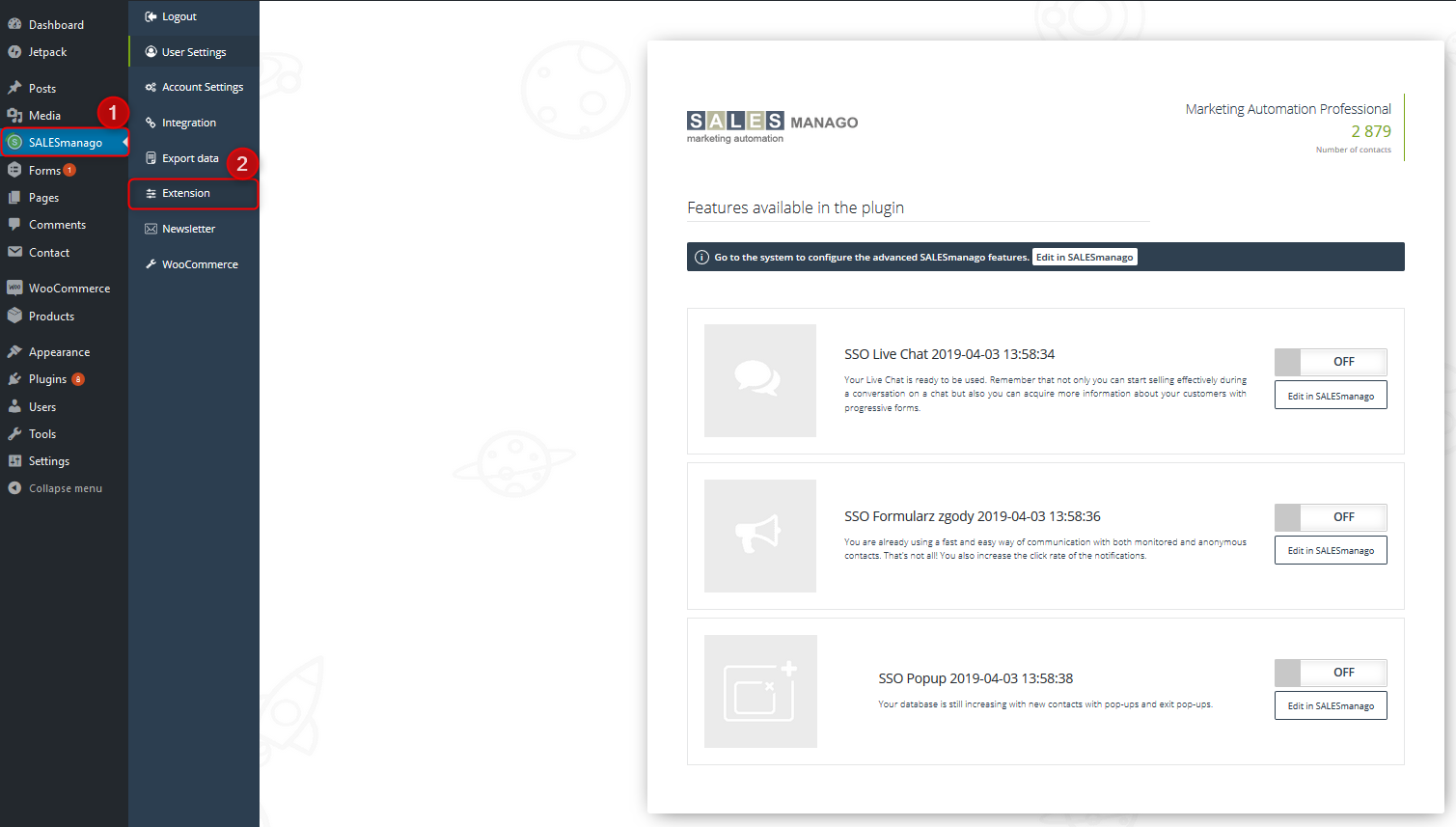 [1] SALESmanago – click this option and then go to [2] Extension.
IMPORTANT: In the plugin there are two modules which work automatically: WordPress and Newsletter.
2. Turn on the integration of SALESmanago and WooCommerce.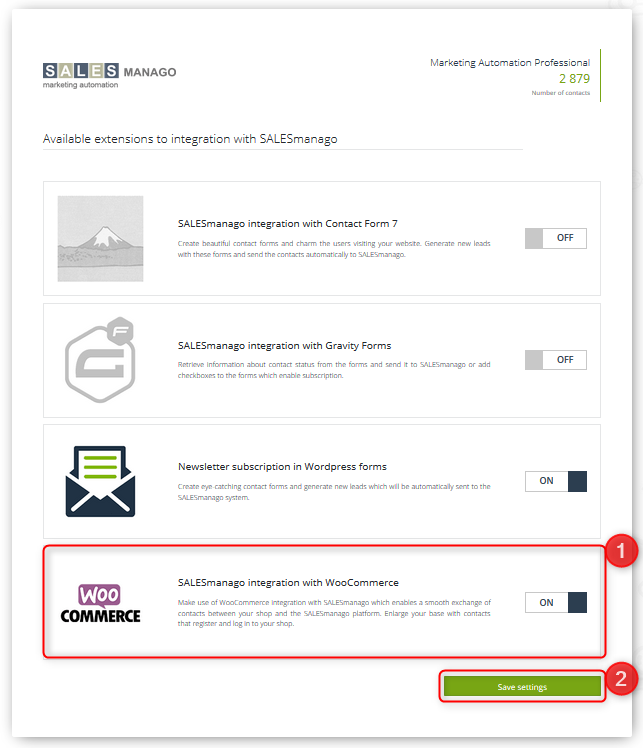 [1] ON – click it
IMPORTANT: If WordPress does not have WooCommerce plugin or it is inactive, you will be informed about the missing module.
[2] Save settings – click it.
3. When you save the configuration, in the menu there will be WooCommerce icon.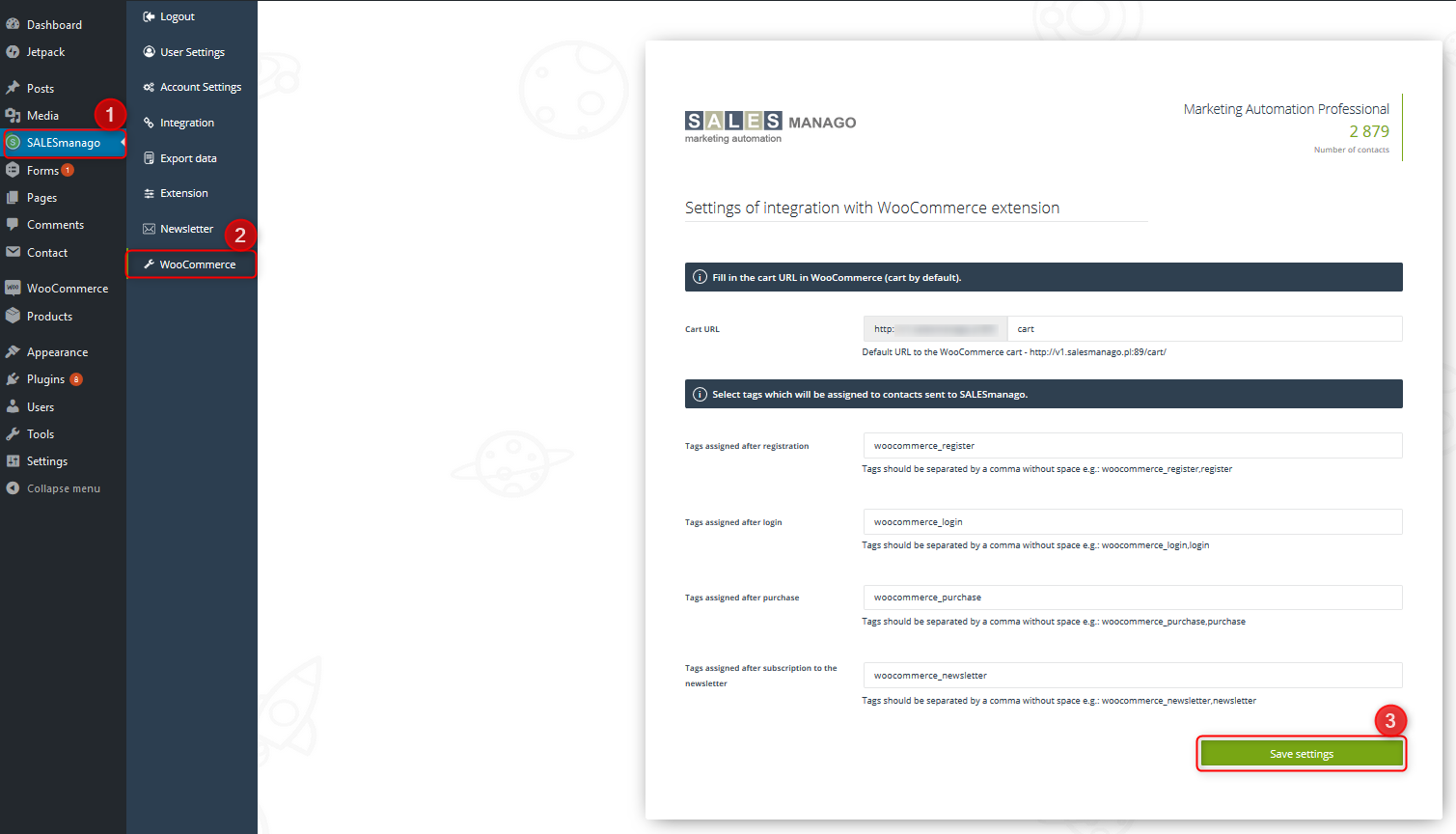 In the menu on your left-hand side click [1] SALESmanago and next
[2] WooCommerce. In this window you can provide URL to your cart in WooCommerce and also select tags which will be assigned to contacts who are transferred to SALESmanago. Click [3] Save settings.
Now, when the installation is done, go to another manual which will help you with configuration.