LiveChat Inc. is a popular solution for website owners that allows their visitors to chat live with customer support. This software is used by over 34,000 companies, making it one of the most popular solutions of its kind. LiveChat Inc. supports several functions, such as greetings, reporting, and pre-chat forms.
---
Contents
Basic information
Scope of integration
Integration setup in SALESmanago
Sample LiveChat Inc. integration uses and automations
4.1. Create a segment with Contacts that used LiveChat to contact you
4.2. Send a WebPush after incoming LiveChat Inc. chat
---
1. Basic information
In this article, you will find detailed information about the integration with the LiveChat Inc. platform. SALESmanago has created an integration that is constantly being improved and available for free to our customers.
The integration allows you to transfer Contacts from pre-chat forms and create an Event for each chat a Contact has started. Contacts transferred using this integration will be assigned with a tag LIVECHAT_INC, with the tag scoring increasing every time a Contact starts a chat.
---
2. Scope of integration
The scope of integration includes the following:
transferring contacts (name, email) revealed in the pre-chat forms in LiveChat Inc.;
assigning a LIVECHAT_INC tag to transferred Contacts and increasing its scoring every time a Contact starts a chat;
creating MEETING External Event in SALESmanago for each new chat of the Contact with the following details:

event description – "livechatInc" (always the same value)
detail1 – chat date (UNIX timestamp)
detail2 – "incoming_chat" (webhook type used by the integration)
detail3 – LiveChat contact identifier
---
3. Integration setup in SALESmanago
The integration setup is very simple and takes no more than a minute. To connect your chat created in LiveChat Inc., log in to your SALESmanago account and go to Integration Center ➝ Integration. Next, select the LiveChat Inc. tile and click Connect integration.
A new tab will open where you should log in to your LiveChat Inc. account and allow SALESmanago to access the scopes required by the integration. When you do this you will be redirected back to SALESmanago, and the integration will be ready to use. From now on the Contacts created in pre-chat forms in LiveChat Inc. will be transferred to SALESmanago. Additionally, every time they start a new chat, a MEETING event will be created.
---
4. Sample LiveChat Inc. integration uses and automations
4.1. Create a segment with Contacts that used LiveChat to contact you
You can use SALESmanago omnichannel communication and target Contacts that meet certain conditions. For example, you can create a segment containing only Contacts who submitted a pre-chat form in LiveChat Inc. and have been transferred to SALESmanago.
To create a segment with all such Contacts, go to Segmentation ➝ Customer Segmentation Center and add a new segment. Set a segment name and description. In the field Select contacts, start typing LIVECHAT_INC and select Tag: LIVECHAT_INC from the search results. If you want to exclude contacts from this segment, you can use selectors in the Exclude contacts field.
In the next screen you can use additional filters. For example, you can create a segment with Contacts who chatted with you at least three times. To do this, choose Filtering by tag scoring, enter LIVECHAT_INC tag, and set a scoring to be greater than 3. Click Next to view the summary and save your segmentation.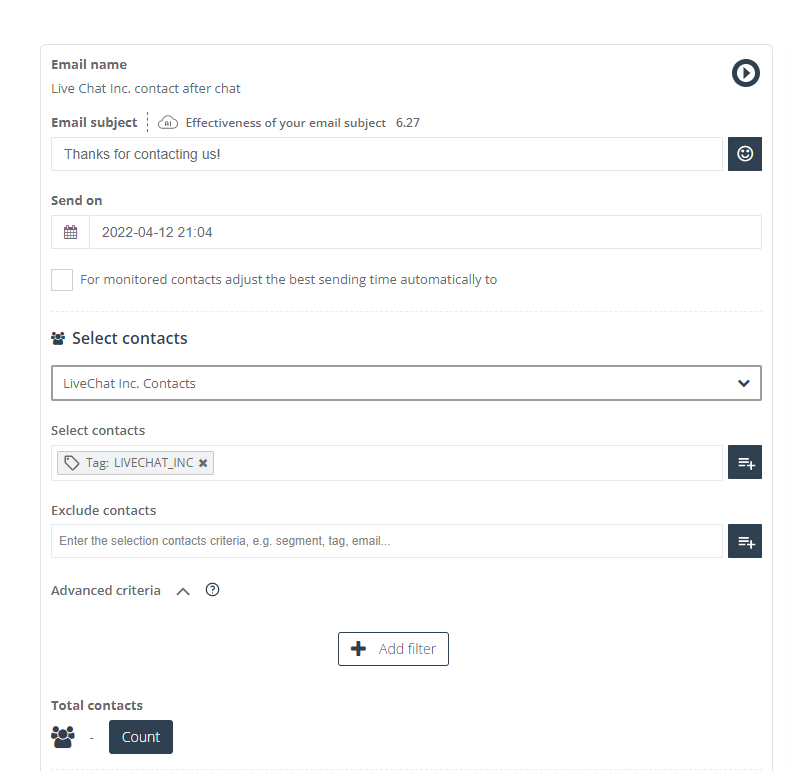 The segment you have created can be used to target Contacts while sending email messages, in Mobile Marketing, Automation Processes, and other places.
4.2. Run Workflow for Contacts who chatted with you
Workflows let you create processes that run automatically every time an event is triggered. To create a Workflow that is executed after a Contact chatted with you using LiveChat Inc., go to Automation Processes ➝ Workflows and create a new rule by clicking Add new Workflow. Next, click on Elements on the right, select Event, and search for New external event occurred. Drag and drop the first search result to the central part of the screen.
Connect the Start node with the Event node. Next, go to the event settings by clicking the cogwheel icon next to the "New external event occurred" tile and set the event type to MEETING. This setting will be enough in most cases; however, if you are integrated using the API and transfer other MEETING events to SALESmanago, you can check "description" and type "livechatInc" in the input field.
After saving the settings for this event, you can use Conditions and Actions to automate any marketing process, for example sending a Web Push notification to the Contact. Remember to name the Workflow in the settings available in the top left corner, as well as save and activate it.
Tip: You can use exactly the same steps to create an Automation Rule for Contacts that contacted you using LiveChat Inc.