Useful links
Shoplo is an e-commerce platform which enables a user to create an online shop. Apart from that, the platform opens up a possibility of integration with other platforms, so you can successively expand the reach of your products and discover completely new sales channels. Shoplo not only serves as a channel that lets you sell your products but also assist you with storage management.
Integration between Shoplo and SALESmanago facilitates the flow of data gathered in Shoplo between those two platforms.
The scope of integration:
export of historical contacts,
export of historical transactions,
contact synchronization,
contact update in real time,
passing the external events from Shoplo to SALESmanago (cart, purchase),
automatic addition of the monitoring code to the online shops within Shoplo and to contacts who signed up for a subscription,
tracking the contacts,
sending information concerning opt-in

and opt-out

status,
generating leads through contact forms,
passing the full information about the contact to SALESmanago,
passing the tags

,
automatic addition of such features as Live Chat, Pop-up Basic, Web Push,
placing the application that integrates Shoplo online shops in Shoplo Appstore for all Shoplo customers,
---
Remember that the integrating app is available when you click the link.
---
In the first step, log in to your shop.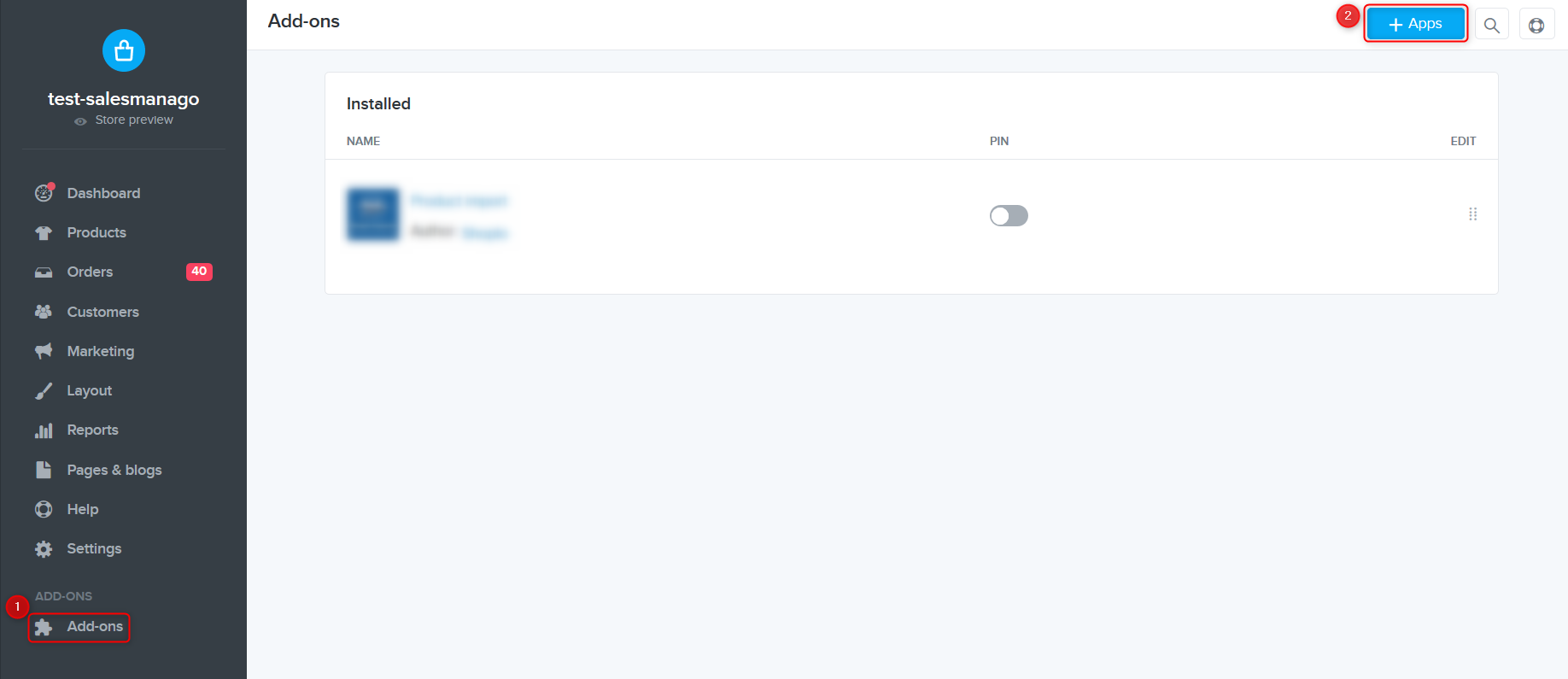 In the manu (left-hand side) click [1] Add-ons and select [2] +Apps. Look for SALESmanago Marketing Automation app. Instal the plugin clicking Install Add-on and next Install.
Go to Add-ons again.

Now among installed apps there is SALESmanago Marketing Automation. Click the slider.
Now you can see SALESmanago in Add-ons section in the main menu.
When you click SALESmanago application, you will be redirected to settings.
Now, when the installation is done, go to the manual which will help you with configuration.
IMPORTANT: Pay attention to the paragraph Additional settings.
If you need more information about the topic mentioned above, please contact us:
support@salesmanago.com
+1 800 960 0640