In SALESmanago, there are available the features letting you use Facebook and Twitter platforms from the system. All you need to do is to connect Twitter account with SALESmanago, then you can start managing your content on the fan page. Check how to use this feature in the system >>.
It is possible to:
create content and add graphics to It,
publish content,
publish posts on several fan pages at once,
view the history of published posts,
check the details of your publication.
How to integrate your platform account with SALESmanago: Social Media -> Social Media Posting.
---
How to connect your Twitter account with the Social Media Posting feature in SALESmanago
First, click the Add new account button. The pop-up with Social Media icons will appear, then we need to choose the Twitter icon and click Add.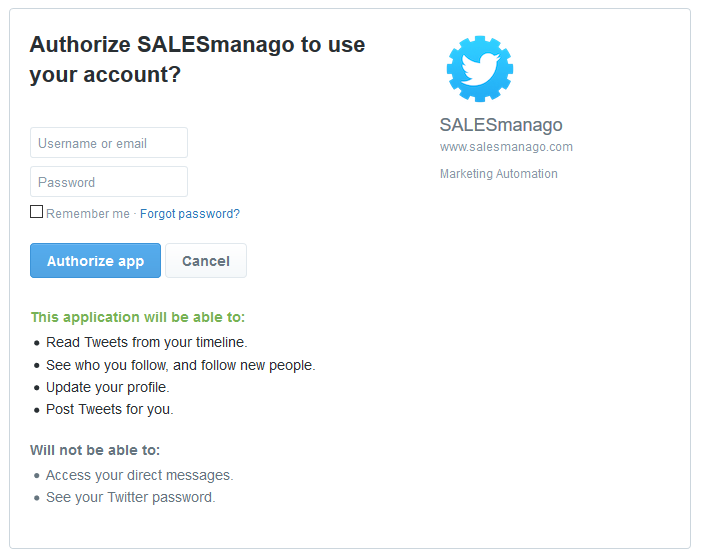 We are going to be redirected to Twitter where we have to Authorize app. If we are not logged in Twitter would ask to insert your account data and authorize the app.

After logging in, a pop-up like the one above will appear. It is necessary to insert the pin in the field displayed in SALESmanago and confirm It with Add.
The account will be visible in the Settings (in the settings you can preview the account but also delete It from the system).
Support SALESmanago - Customer Engagement Platform for impact-hungry eCommerce marketing teams
Average rating:
0 reviews
If you need more information about the topic mentioned above, please contact us:
support@salesmanago.com
+1 800 960 0640