SALESmanago users have the option to set specific limits for the number of messages sent to all contacts stored in the database, in a particular period of time.
To edit the settings go to
Settings → Other→ Application→ Email & SMS settings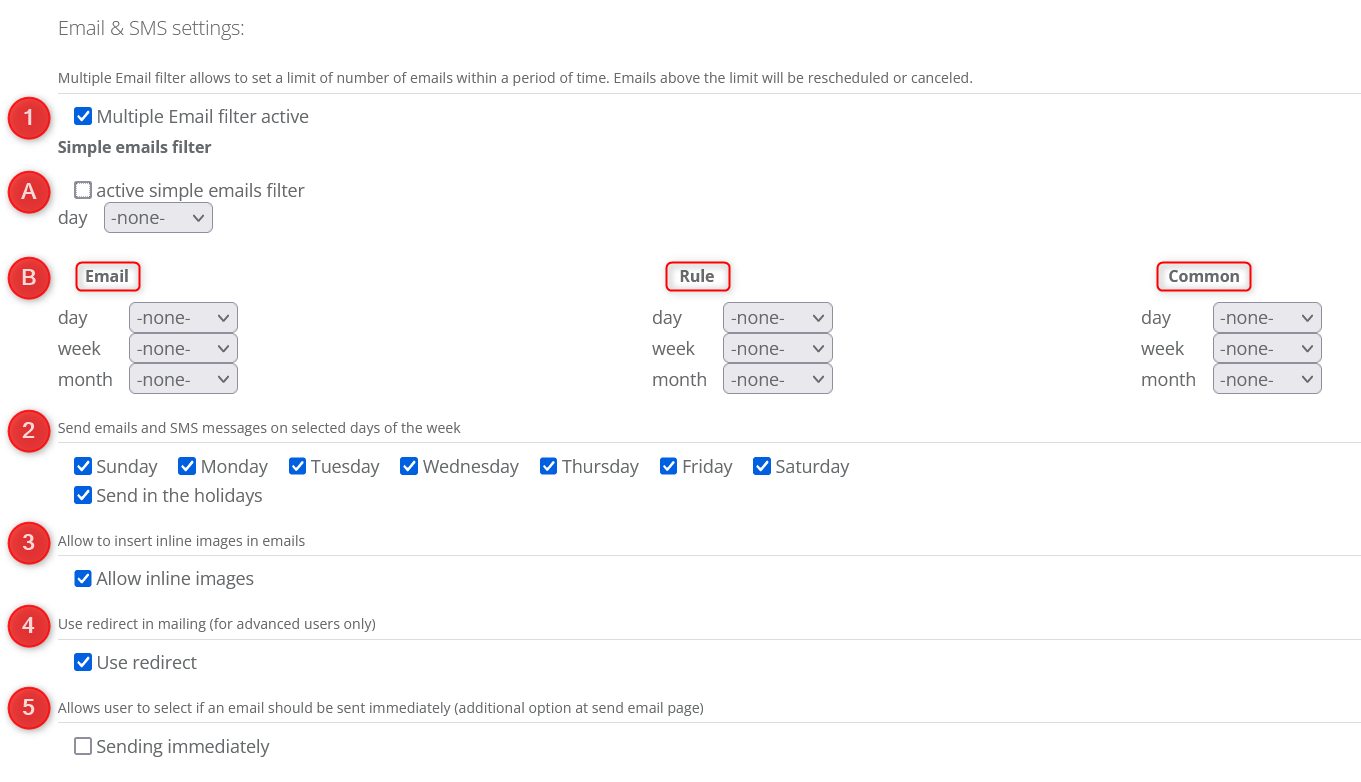 [1] Multiple email filter active – after selecting this option, you can configure the message filtering settings in two ways:
[A] Active simple emails filter – by enabling this option you can select any number of maximum emails that could be sent to the contact during one day. This limit relates to messages sent through mailings (also through API) as well as automation rules and Workflow. If on any day the number of emails to be sent to one contact exceeds the limit set in this option, any excess mail will be blocked and never sent to the user.

[B] Active advanced emails filter – with this option, you can define limits for emails sent to a single contact, this will relate to the number of emails sent (also via API), as well as emails sent through rules and Workflow. In addition, you can define the maximum number of messages to be sent. The available limit options include daily, weekly, and monthly.
EXAMPLE: You can set 3 emails and 2 messages through rules or Workflow to be sent during the day, but the maximum number of all messages sent during one day can be 4.

[2] Send emails and SMS messages on selected days of the week – the system allows you to choose particular days of the week, on which emails could be sent.
EXAMPLE: If you deselect "Sunday", messages that should be sent on that day will be sent on the next day, that is on Monday.
IMPORTANT: The "Send in the Holidays" option works for official Polish public holidays, such as New Year, Epiphany, Easter Sunday and Monday, the 1st and the 3rd of May, Pentecost, All Saints' Day, Independence Day, and the two days of Christmas.
Read more about settings of emails triggered by automation rules and Workflow >>
[3] Allow to insert inline images in emails – graphics for mail templates can be added through inline links. That means they will be permanently encoded in the template instead of being downloaded from the server when the message in the user's browser is opened.
Read more about adding inline images in templates >>
[4] Use redirect in mailing (for advanced users only) – enabling this option makes that each click on any link will be counted. Otherwise, Workflow will only work for links redirecting to the monitored page.
[5] Allows user to select if an email should be sent immediately (additional option at send email page) – enabling this option allows immediate sending emails from the send email page.
If you need more information about the topic mentioned above, please contact us:
support@salesmanago.com
+1 800 960 0640