Go to Settings → Others → Unsubscribe page.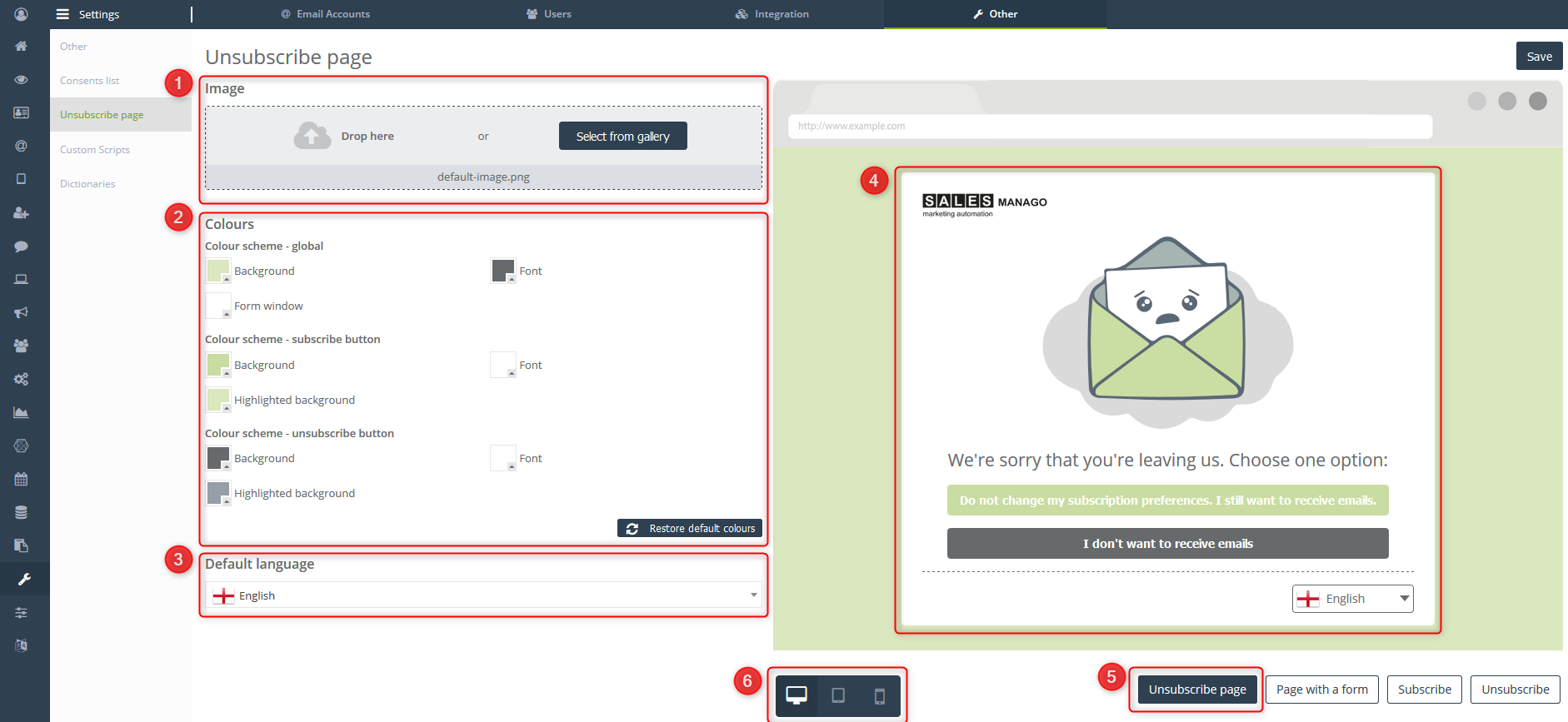 [1] Image – when you want to use your own graphic element, add it using Drop here or Select from gallery
IMPORTANT: When you remove the selected graphic element, the default graphic element is used automatically
[2] Colours – you can change colours of selected elements of the graphic
IMPORTANT: At any time you can click Restore default colours
[3] Default language – select language from the drop-down list when you want to change default setting
IMPORTANT: Default language is the same as browser language; in case it is not recognized or it differs from the one we use, default language is used
In unsubscribe page creator there are 26 languages
[4] Preview – here you can see how your unsubscribe page looks
[5] Unsubscribe page – the first window the contact sees when making a decision to unsubscribe; the contact selects one option: Do not change my subscription preferences. I still want to receive emails or I don't want to receive emails
IMPORTANT: Here you can also change language when unsubscribe page will be used by contacts using different language than the one in which you use the system
[6] Preview for mobile devices – clicking these option you see how to unsubscribe page is displayed on different devices
When the contact makes a decision to unsubscribe and clicks I don't want to receive emails, the contact is automatically redirected to the following view.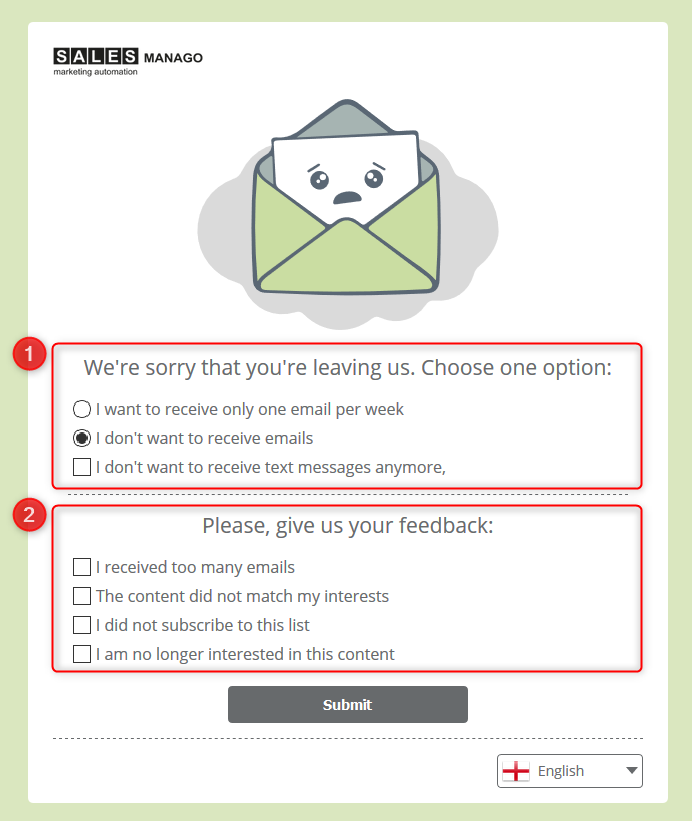 [1] In the first part the contact can select unsubscribe option, limit emails to getting only one a week or resign from getting SMS messages
[2] In the second part the contact is asked to select the reason(s) of unsubscribing or limiting number of messages
When the contact selects options and saves them clicking Submit, there is an automatic redirection to the next view.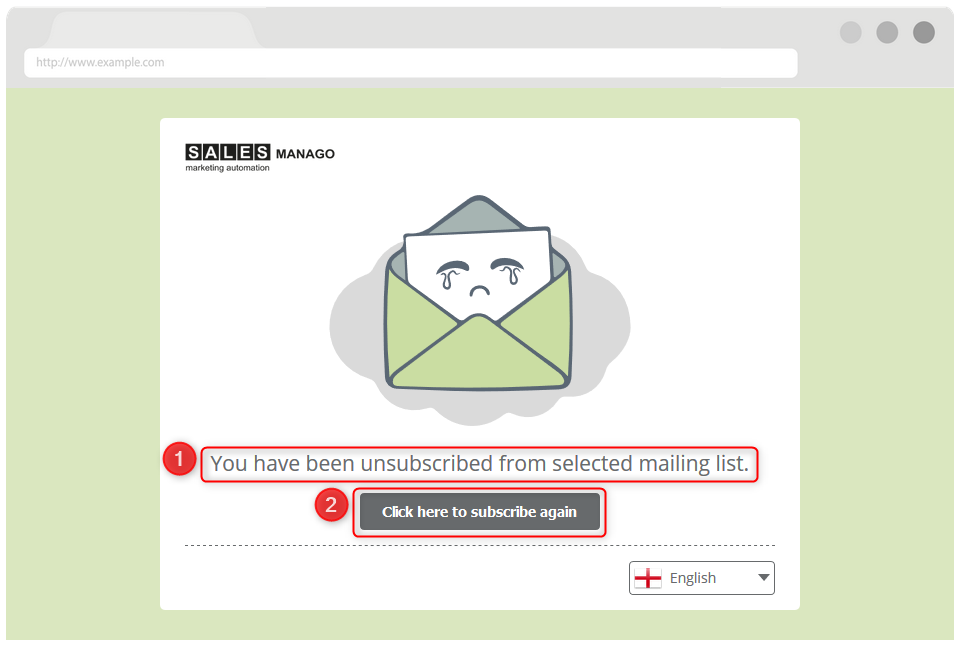 [1] Contact is informed about unsubscribing from selected mailing list
[2] Contact can subscribe again
When the contact selects the second option (decides to subscribe), there is an automatic redirection to Thank you page.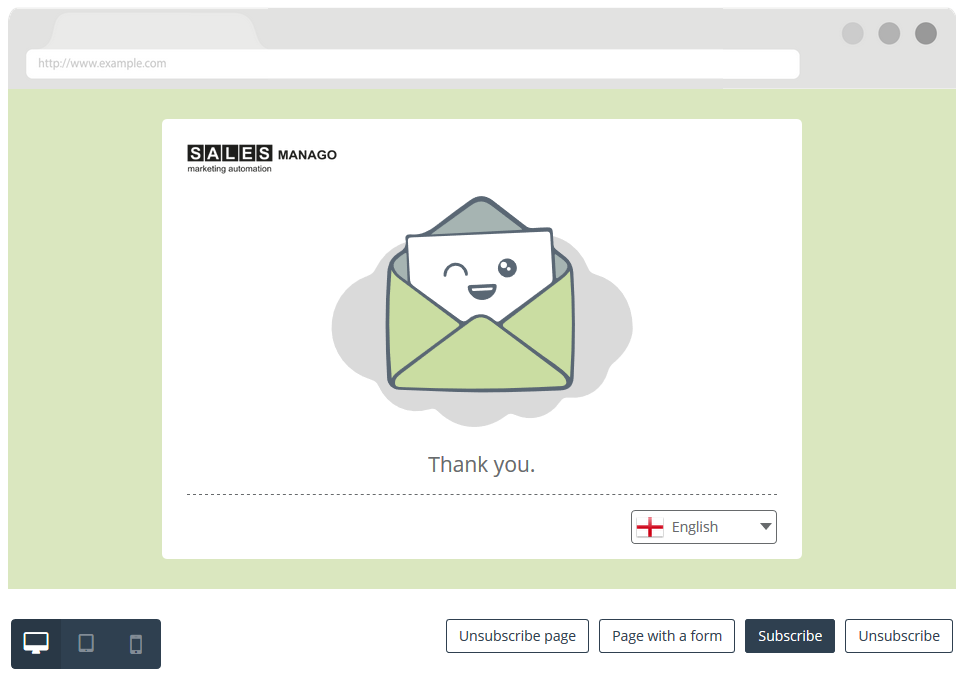 If you need more information about the topic mentioned above, please contact us:
support@salesmanago.com
+1 800 960 0640