Automated email delivery is a primary type of action used in Marketing Automation. This kind of action enables to send different types of messages:
welcome messages,
dynamic emails,
rescuing abandoned card,
predefined emails after crossing Trigger Point, for example, email with an offer after scoring 300 points or sending an email with cooperation invitation after visiting a subpage,
emails with the Lead Nurturing Campaign,
emails with products that contact was interested in on the website,
emails with categories that were interested for the contact,
emails with coupons or vouchers,
and more…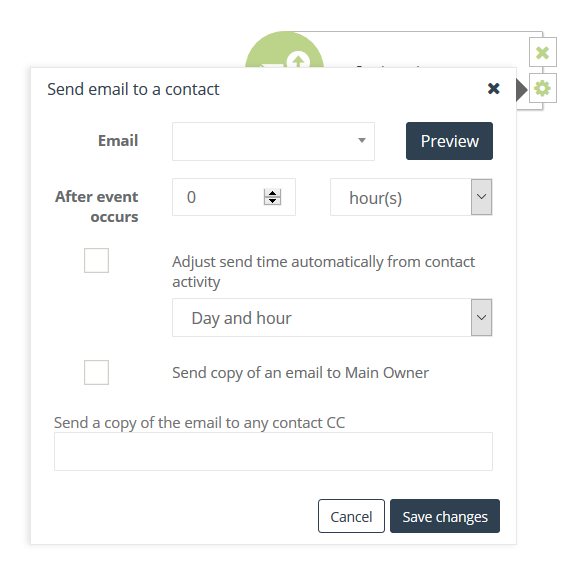 In this action you need to specify:
[1] The type of action: Send email to a contact
[2] Email: Select from the drop-down list
[3] After eveny occurs: specify the time here
[4] Adjust send time automatically from contact activity: selecting the optimal date/hour let us send an email individually suited to the highest activity of the contact. That means system checks when the contact is the most active and send the message then.
[5] Send copy of an email to Main Owner
[6] Send copy of an email to any contact CC
Message will be sent according to:
contact activity on the website,
reaction on emails (not only clicks but also openings),
If there is an integration between SALESmanago and online store platform, external events (card, purchase).
You can find monthly and daily analytics in contact card, tab Events.
[4] Send copy of an email to Main Owner: picking this option makes the same email be delivered to Main Owner of the contact immediately after opening the email by the contact. Due to that, we will know when the action has been activated.
[5] Send a copy of the email to any contact CC: we can insert any email address we want to receive an email at (at the same time contact opens his).
IMPORTANT: Click Preview at any time you want to see how the emial looks.
If you need more information about the topic mentioned above, please contact us:
support@salesmanago.com
+1 800 960 0640