Useful links
A Workflow is an Automation Process that allows you to flexibly respond to specific Contact behaviors through various communication channels, with no manual work on your part.
With the advanced Workflow functionality offered by SALESmanago, you can boost the efficiency and effectiveness of your marketing activities by automating your communication across different channels, reacting to user behaviors on your website, and accelerating the sales process.
A well-designed Workflow can help you achieve even the most ambitious marketing goals faster than ever. This article describes the most popular use cases of Workflows and provides useful examples illustrating the Workflow creation process.
---
Contents
---
1. Workflow: Use cases
SALESmanago Workflows allow you to streamline your marketing activities and maximize your communication and sales potential.
A Workflow process should be designed to help you achieve specific marketing goals, which can include, for example:
increasing your conversion rates,
increasing customer engagement and building brand loyalty,
increasing the order value,
lowering customer churn, or
winning back inactive customers.
You can create comprehensive, omnichannel Workflow campaigns aimed at very specific outcomes, such as:
recovering an abandoned cart,
retargeting website visitors,
lead nurturing,
collecting feedback,
encouraging your customers to:

participate in your Loyalty Program,
purchase complementary products (cross-sell), or
go for a more expensive product (upsell).
Moreover, Workflows can help you organize and manage your Contact database, for example, through Actions such as:
A well-managed database is a solid foundation for any marketing activities, providing valuable insights into your customers' preferences, behaviors, and demographics. This information empowers you to effectively segment your customers and create targeted and personalized marketing campaigns that resonate with your audience.
The ideas above are only the most popular use cases for Workflow processes. The intuitive SALESmanago creator offers unlimited possibilities for combining different elements, from triggering Events based on user behavior, to specific Conditions for Contact progression, to precisely targeted Actions. Define your goal and create powerful cause-and-effect relationships that will support your marketing efforts.
For more inspirations, visit the Workflow Library, which offers basic and advanced Workflow templates that can be used to create comprehensive omnichannel campaigns.
Read more about the Workflow Library >>
The Workflow Library comes with the Workflow Generator—a unique feature designed to help you create the perfect Automation Process tailored to your specific needs. Select a marketing goal and a communication channel and ask the SALESmanago system to generate possible tactics for your combination.
Read more about the Workflow Generator >>
You can find the list of all articles dedicated to individual Workflow elements here >>
---
2. Example: Welcoming a new customer
Imagine this: you have a new customer! A new Contact has appeared in your database and has a PURCHASE External Event assigned to them. Now is the perfect time to extend a warm and personalized welcome, laying the foundation for strong customer intimacy. By promptly initiating a customer-centric approach, you can foster genuine connections and forge long-lasting relationships. Don't miss this opportunity to make a lasting impression and ignite the sparks of customer loyalty.
TIP: As the costs of customer acquisition are growing, building authentic relationships with your audience is crucial for cost-effective marketing. Read more on the SALESmanago blog >>
Start creating your Workflow by adding the Event: Contact added to system and connecting it to the Start element. However, you don't want this Workflow to be triggered for any new Contacts—this Automation Process is intended for actual new customers, i.e., new Contacts that have made a purchase.
Add the Condition: Contact has External Event assigned. Configure the Condition to be met if a Contact has an External Event of the PURCHASE type assigned to them.
To make sure that the freshly-made purchase has been processed and registered on the Contact Card, precede it with a Wait element configured to 15 minutes.
Connect all the elements by arrows.

If the Condition is not met (i.e., if the Contact has made no purchase), you can send the Contact an email encouraging them to make their first purchase. The email can be configured to contain recommendations, e.g., of most frequently bought products.
Read about Product Blocks in the Email Design Studio >>
Add the Action: Send email to Contact. This is the last Action you want to perform for such Contacts in this Workflow, so follow the Action with a Finish element.

If the Condition is met, you want to send the new customer welcome messages in the form of an email and a Web Push notification. To show your new Contact that they are valued from the very start, you can include a discount code or a coupon in the messages, or personalize the messages with recommendations of products similar to the ones they have already purchased.
Add the following elements: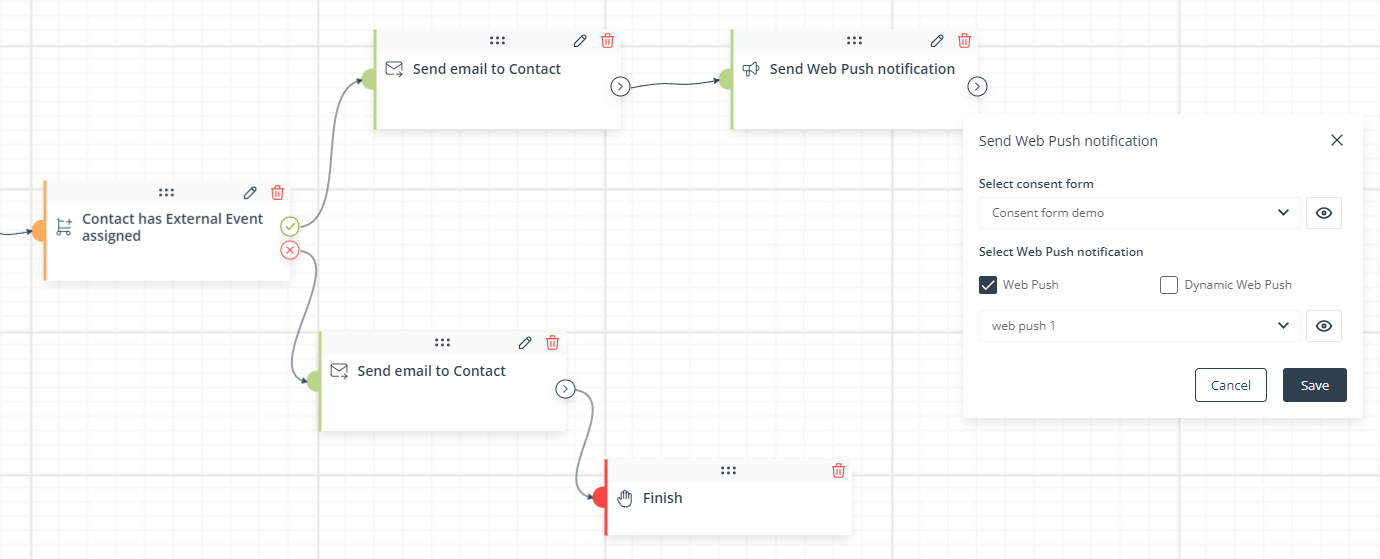 Note that in the settings of the Action: Send Web Push notification, you need to select the consent based on which the Web Push can be displayed to Contacts.
NOTE: The emails configured to be sent through the two Actions: Send email to Contact will only actually be sent to a Contact if they have opt-in status for Email Marketing.
Read about Contact statuses on the SALESmanago platform >>
Finally, make sure that you track your activities performed for individual Contacts. Use the Action: Add tag to Contact to assign a special tag (WELCOME_CAMPAIGN) to Contacts that have completed this path of your Workflow. Then, add a Finish element.

That's it! If you want to immediately start using your Workflow, activate it and save it as ready.

If you need more information about the topic mentioned above, please contact us:
support@salesmanago.com
+1 800 960 0640