Useful links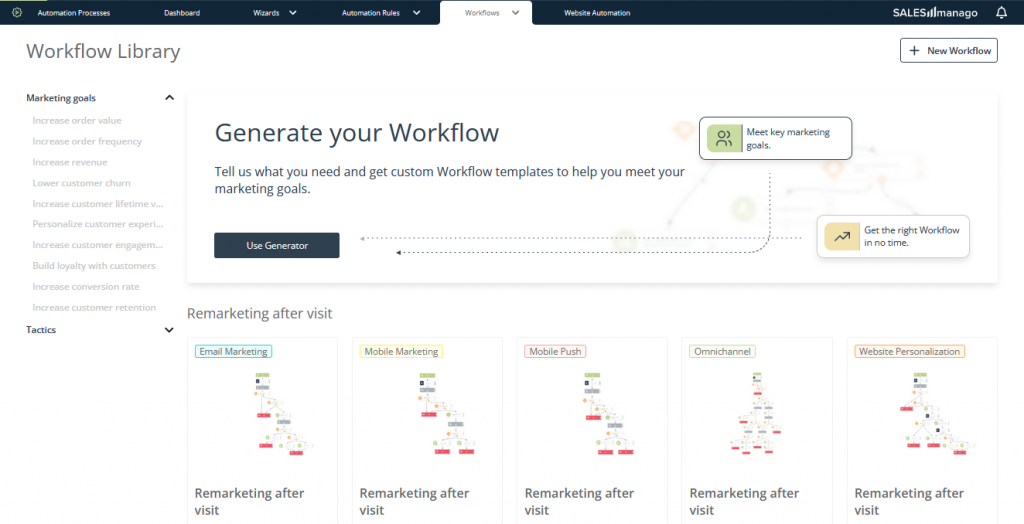 Workflow allows you to automate the communication flow with your audience across different channels, accelerate the sales process, provide your sales team with ready-to-buy leads, and react individually to their behavior on your website. SALESmanago Workflow now offers a new feature: Workflow Library.
To use the Workflow Library, go to
Automation Processes → Workflow → Workflow Library
---
Contents
---
1. Basic information
The Workflow Library contains several predefined advanced and basic Workflow templates that customers can use to create their own comprehensive, multi-channel campaigns. These templates were created by top-performing Marketing Automation Specialists. They used their knowledge and experience gained in cooperation with global companies. Workflow Library is a great starting point for all our customers who want to begin their marketing automation journey.
---
2. Library overview
The main view of the Workflow Library shows a collection of all available Workflow templates. The Library dashboard allows you to navigate within this collection, as well as perform certain actions on the templates.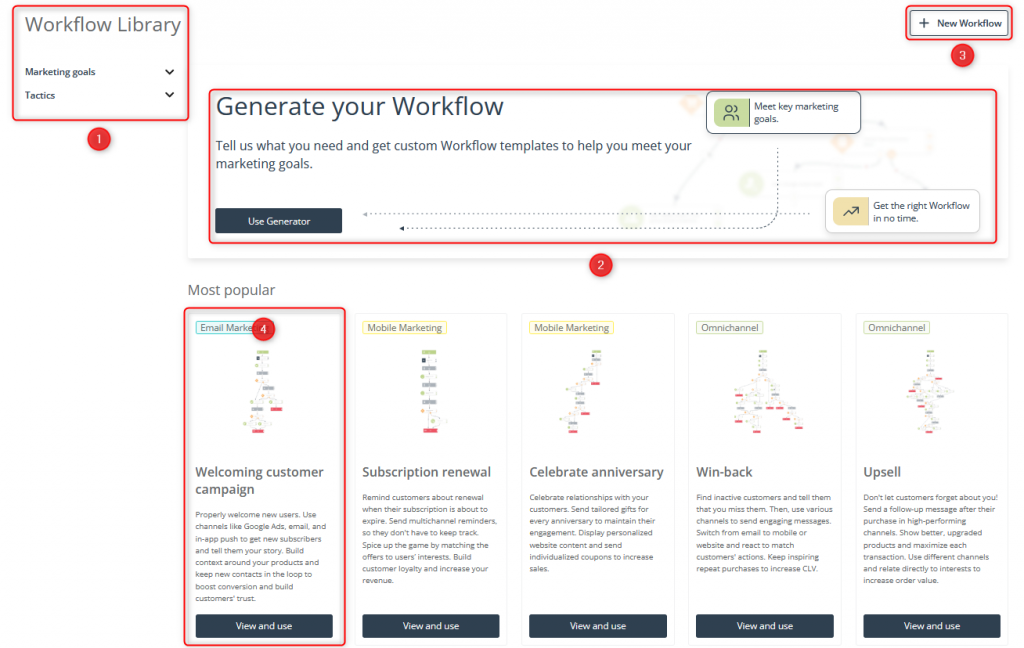 [1] Filtering—You can filter the Library by specific criteria. Select a Marketing goal or a Tactic that interests you.
[2] Generate your Workflow—To save even more time, you can use our unique generator. Pick a goal. Then, specify the channel you want to focus on. You can also specify the tactics you think are best for the situation. Click Generate and from the suggested list, choose a template—the perfect canvas for your content.
Read more about Workflow Generator >>
[3] +New Workflow—Choose to build a new Workflow from scratch.
[4] Actions on templates—You can view and use all templates at any time.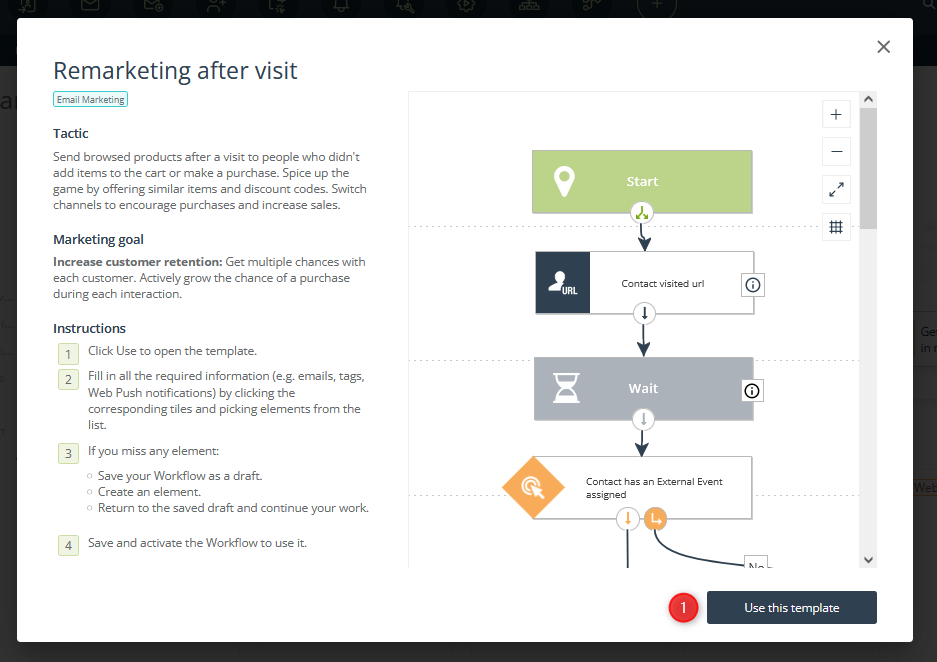 After clicking View and use on a template tile you'll see a brief description, instruction and a preview of a template. To use it click [1] Use this template.
---
3. List of templates
Here is an overview of all available options in a Workflow Library.
Marketing goals:
Name
Description
Increase order value
Tailor messages to the value of customer purchases.
Increase the value of shopping carts and raise in-store revenue.
Increase order frequency
Tailor messages to the frequency of customer purchases.
Encourage people to buy more often and increase their lifetime value.
Increase revenue
Apply best practices at every stage of the buyer's journey.
Build strong relationships and keep increasing revenue.
Lower customer churn
Perfectly tailor your offering to each customer.
Extend your customers' lifecycles and scale your business.
Increase customer lifetime value
Provide each customer with a 1:1 experience.
Enjoy long-lasting relationships and increased revenue.
Increase customer engagement
Send tailored messages and offers at the best time.
Engage customers, build trust, and increase in-store revenue.
Increase conversion rate
Keep customers interested throughout the buyer's journey.
Positively impact loyalty and customer lifetime value.
Personalize customer experience
Design the best customer experience possible.
Build a strong competitive advantage for your business.
Build loyalty with customers
Turn your short-term relationships into long-term ones.
Keep your customers happy and coming back for more.
Increase customer retention
Get multiple chances with each customer.
Actively grow the chance of a purchase during each interaction.
Communication Channels:
Communication Channel
Benefits
Email Marketing
Email is one of the top 3 channels for B2C marketers
The average ROI for email marketing is $42 for every dollar spent
Mobile Marketing
46% of consumers prefer smartphones for browsing online
Mobile commerce will reach 69% of total eCommerce sales by 2024
Mobile Push
Targeted push notification campaigns have a conversion rate of up to 30%
Push notifications can bring an ROI up to 2200%
Website Personalization
Layout changes can increase website conversions by over 680%
Basic website personalization can give a 15% sales uplift
Omnichannel
Personalized experiences attract 80% of frequent shoppers
Strong omnichannel strategies bring 89% customer retention
Tactics:
Campaign
Description
Benefits
Win-back campaign
Find inactive customers and tell them that you miss them. Then, use various channels to send engaging messages. Switch from email to mobile or website and react to match customers' actions. Keep inspiring repeat purchases to increase CLV.
Find inactive customers
Use various channels
Match message to response
Inspire repeat purchases
Cross-sell campaign
Don't let customers forget about you! Follow-up purchases using high-performing communication channels. Show related products and maximize each transaction. Use different channels and relate directly to customer interests to increase order value.
Maximize every transaction
Refer to interests
Offer related products
Increase order values
Upsell campaign
Don't let customers forget about you! Send a follow-up message after their purchase in high-performing channels. Show better, upgraded products and maximize each transaction. Use different channels and relate directly to interests to increase order value.
Maximize every transaction
Offer pricier products
Offer better products
Increase order values
Abandoned cart recovery
Automatically check contact's details and spot disrupted purchases. Reach people in the most popular channels with tailored messages to remind them about the items in their carts. Direct shoppers back to your eCommerce website and re-spark the purchase.
Spot disrupted purchases
Send tailored messages
Direct people back to site
Re-spark the purchase
Welcome campaign
Properly welcome new users. Use channels like Google Ads, email, and in-app push to get new subscribers and tell them your story. Build context around your products and keep new contacts in the loop to boost conversion and build customers' trust.
Tell new users who you are
Give context for products
Boost conversion rates
Build trust in your store
Retargeting campaign for active customers
Use multiple channels to deliver tailored content to visitors who left your website without making a purchase. Re-engage them and direct traffic back to the website. With personalized content, move visitors down the purchase path and increase your sales.
Deliver tailored content
Re-engage people
Redirect traffic to website
Increase your sales
Refill campaigns
Remind customers to replace products when they are done with the current batch. Send multichannel reminders, so they don't have to keep track. Spice up the game by matching the offers to users' interests. Build customer trust and increase your CLV.
Send reminders
Send the best offers
Build customer trust
Increase CLV
Subscription renewal
Remind customers about renewal when their subscription is about to expire. Send multichannel reminders, so they don't have to keep track. Spice up the game by matching the offers to users' interests. Build customer loyalty and increase your revenue.
Send subscription reminders
Encourage renewal
Reinforce loyalty
Increase revenue
Loyalty program campaign
Kickstart your customer engagement game. Use multichannel incentives to guide them through Loyalty Program thresholds. Gamify and improve the customer experience to visibly reduce churn and sell more products.
Engage customers
Minimize churn
Improve customer experience
Sell more
Appreciation campaign for premium users
Find premium users through a scoring. Use the most popular communication channels to send them personalized coupons with discounts, free shipping, and other incentives. Reward their engagement and increase your CLV.
Find premium users
Reward commitment
Prepare special offers
Increase CLV
Anniversary campaign
Celebrate relationships with your customers. Send tailored gifts for every anniversary to maintain their engagement. Display personalized website content and send individualized coupons to increase sales.
Celebrate relationships
Send tailored gifts
Maintain engagement
Increase sales
After purchase nurturing
Send thank-you emails after a purchase. Wait some time to reach customers with dynamic content to upsell or cross-sell other products. Use the most effective channels to encourage further purchases and increase your revenue.
Send valuable content
Educate users
Encourage purchases
Increase revenue
After visit remarketing
Send browsed products after a visit to people who didn't add items to the cart or make a purchase. Spice up the game by offering similar items and discount codes. Switch channels to encourage purchases and increase sales.
Showcase browsed items
Offer similar items
Encourage purchases
Increase sales
NPS survey
Collect feedback about your products and services. After every purchase, send an NPS survey link via email, text message, live chat, or Web Push. Use this data to improve business performance and increase customer loyalty.
Send surveys
Collect feedback
Improve product quality
Increase loyalty
Lead nurturing
Nurture contacts once they initiate a relationship with your store. Use email to determine the best way to communicate. Send a series of educational messages. Build customer trust to shorten the buyer's journey and speed up the purchase decision.
Send messages
Educate customers
Shorten the buyer's journey
Build customer trust
If you need more information about the topic mentioned above, please contact us:
support@salesmanago.com
+1 800 960 0640