Useful links
Workflow allows you to create advanced automation scenarios built from various elements such as Events, Conditions, and Actions. Thanks to the detailed analysis of this module, it is possible to optimize them. The Workflow analytics presents information about the sales generated by a given campaign, and shows the effectiveness of communication at each of its stages. You are able to determine which of them work well and which are still worth working on.
You can find workflow statistics in
AUTOMATION PROCESSES => WORKFLOW => ANALYTICS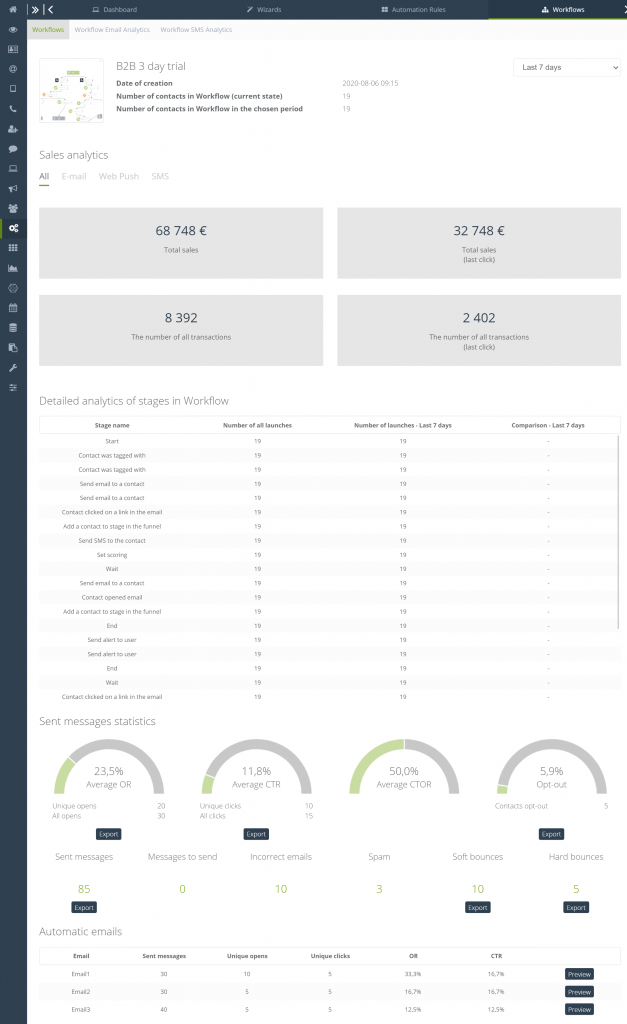 ---
Contents:
Workflow analytics
Go to preview
Sales analytics
Detailed analytics of stages in Workflow
Sent messages statistics
Automatic emails
---
1. Workflow analytics
On the main icon of the set workflow campaign, you can activate and deactivate the campaign, edit Its structure, duplicate it, delete or preview the analytics.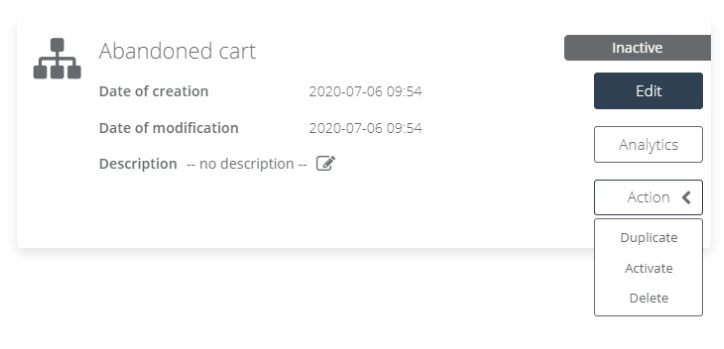 ---
2. Go to preview

After clicking Analytics, the following screen with precise campaign analytics will be displayed. Also, from this place, you have the possibility to open our Workflow preview.

[1] Go to preview – you can open a preview of your Workflow campaign and check the total amount of passages through the stage. After selecting any element (event, condition, action) system will display information about how the number of contacts which passage to the selected stage. The number of contacts concerns a specific date – chosen in point [3].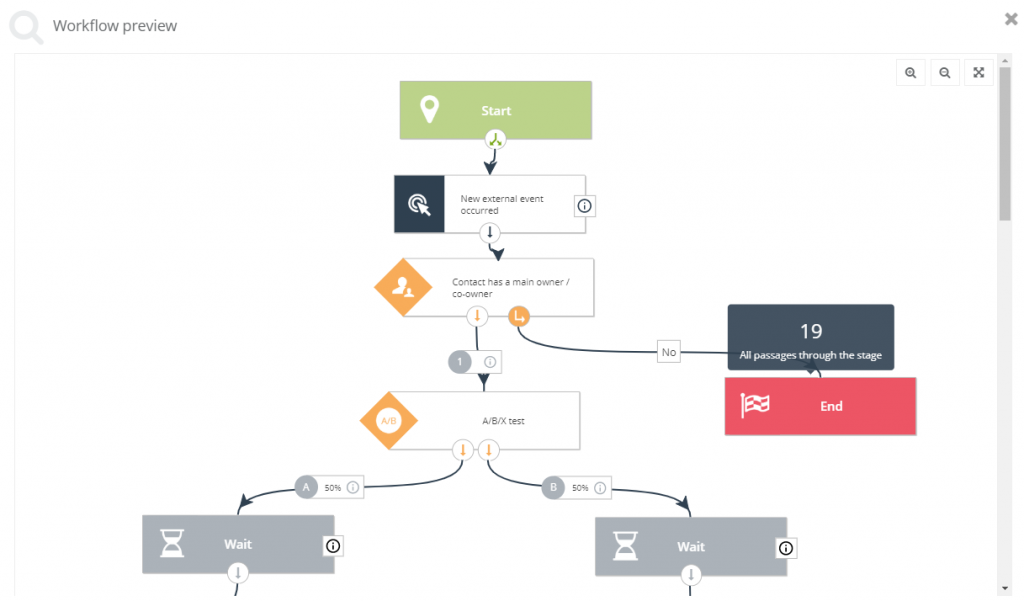 [2] Right here, you can see the most important data about your campaign like date of creating, name, or a number of contacts in the campaign
[3] You can select a time from which one you want to check the analytics of the campaign. You can choose from: last 7 days, 30 days, current month, previous month, current quarter, previous quarter, current year, previous year, last 12 months.
---
3. Sales analytics
In Sales analytics you can see total sales, total sales last click – it is the source of transaction which took place shortly before the transaction (that led the contact to your website), the number of all transactions, the number of all transactions
(last click).

---
4. Detailed analytics of stages in Workflow
In this place, you can see contacts' statistics on the selected stage of the campaign. Thanks to the displayed data, you can compare the number of contacts on stages of your Workflow campaign, number of all launches, number of launches in the last 7 days, and also how amounts of contacts passages change at selected intervals.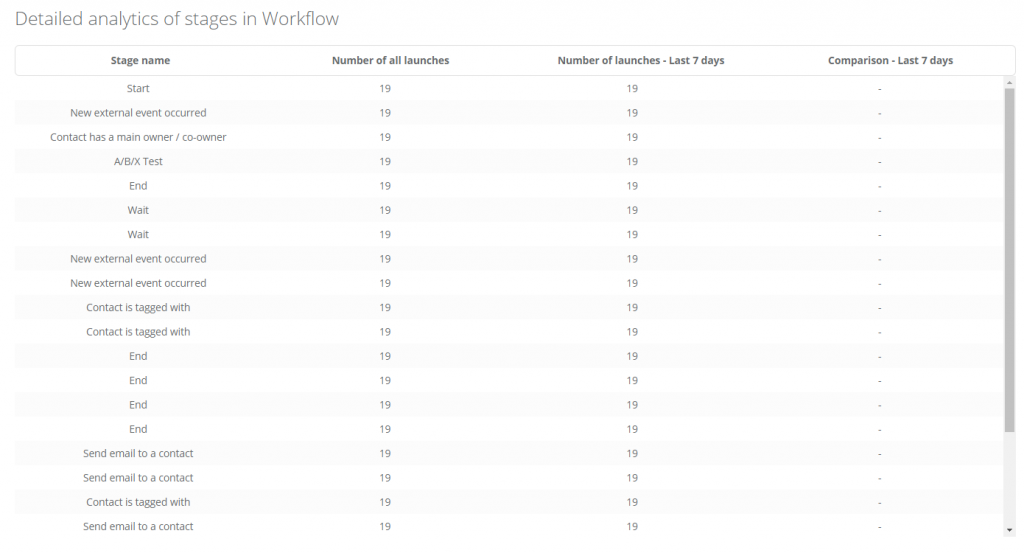 ---
5. Sent messages statistics
In sent messages statistic you can find information about ratio unique opens to all opens (average OR), unique clicks to all clicks (average CTR), unique clicks to unique opens (average CTOR), and opted-out contacts to all contacts. Also, it is possible to export data by clicking the "Export" button.

---
6. Automatic emails

In the Workflow analytics panel, you also have a statistic for Automatic emails. By clicking "Preview" you can see the sent email. In the panel, you can see a number of sent messages, unique opens, unique clicks, OR, and CTR for a selected email.

If you need more information about the topic mentioned above, please contact us:
support@salesmanago.com
+1 800 960 0640