Useful links
This Condition is met if a Contact's purchase prediction value is at a specific level.
One of the tabs on the Contact Card is Prediction Analytics. This feature allows you to predict your Contacts' future activities (purchase or churn) based on transactional and behavioral data.
Read more about Prediction Analytics on the Contact Card >>
After adding this Condition to your Workflow, define the following settings: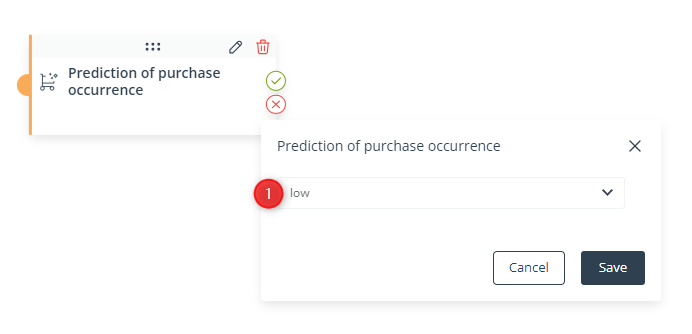 [1] Prediction of purchase occurrence—Select the level of purchase probability for which the Condition will be met. You have the following options:
low (0–25%),
medium (26–50%),
high (51–75%),
very high (76–100%).
The Condition will be met for a Contact if the prediction of purchase occurrence on their Contact Card is at the selected level.
Click Save to continue configuring your Workflow.
If you need more information about the topic mentioned above, please contact us:
support@salesmanago.com
+1 800 960 0640