Useful links
Web Push notifications are short browser-based messages that you can send straight to the subscriber's device. It's a new, fast way to communicate with your audience. The notification consists of a small icon, a title and a short message (in the case of Rich Web Push notifications also a larger graphic), and the entire notification is linked to a page of your choice.
SALESmanago allows you to send Web Push notifications from the system itself. At the same time, it also allows you to send notifications from a domain where consent is confirmed.
A script that gives consent to receive Web Push notifications can be added anywhere on the website. As a result, a person who wants to subscribe to a particular type of notifications only needs to press the element on the page to which this script has been added. As a result, they will subscribe to receive Web Push notifications.
---
Contents
1. Basic information
2. Enabling the display of the consent form
3. Invoking the right JavaScript function
---
1. Basic information
The vast majority of features on the SALESmanago platform is based on the performance of monitoring code. Web Push notifications are no different. To use them and add a consent script to elements on your website, start by uploading the monitoring code to your website source.
Read more about SALESmanago monitoring code integration >>
---
2. Enabling the display of the consent form
To send Web Push notifications, subscribers must first confirm their desire to receive notifications using a consent form.
Read more about Web Push Notification consent form >>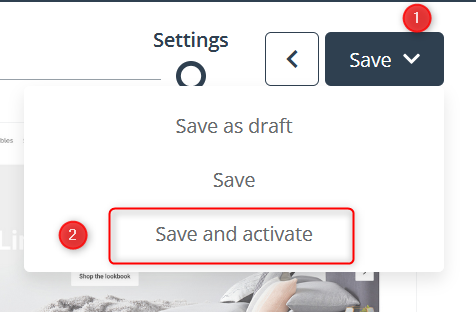 Create such a form and then enable its display. To do this, save the created form [1] by selecting Save and sctivate [2].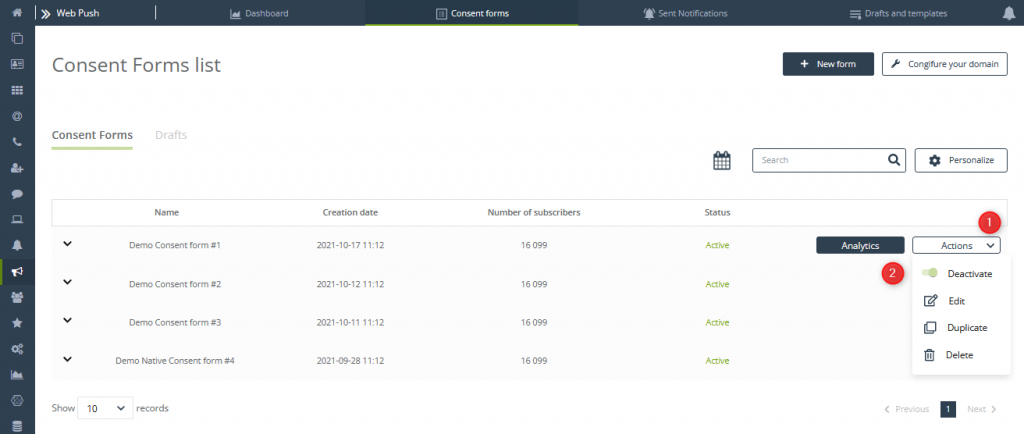 You can also activate the form from within the List. Go to: Web Push → Consent Forms and select the Actions menu [1] next to the form you are interested in, then set the activation slider [2] to the appropriate position.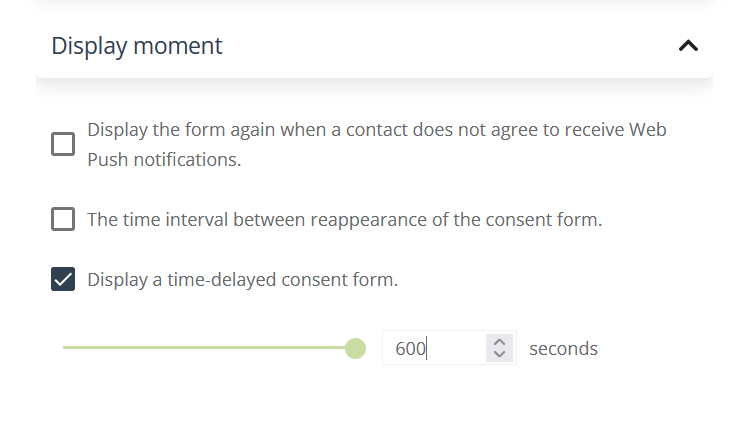 IMPORTANT: An additional condition for proper display of the form is to set a maximum time delay of 600 seconds.
---
3. Invoking the right JavaScript function
The next step is to invoke function in Java Script:
smWebPushConfirm()
An exemplary application of the function:
You can add invoked function to the button on the website, e.g.:
<button onclick="smWebPushConfirm()">
Show Web Push consent
</button>
When the button is styled, it will look like this:
Support SALESmanago - Customer Engagement Platform for impact-hungry eCommerce marketing teams
Average rating:
0 reviews
If you need more information about the topic mentioned above, please contact us:
support@salesmanago.com
+1 800 960 0640