Useful links
The Email Design Studio offers a wide range of widgets—elements that allow you to include different types of content in your email. This article explains how to configure the Opt-out Link widget.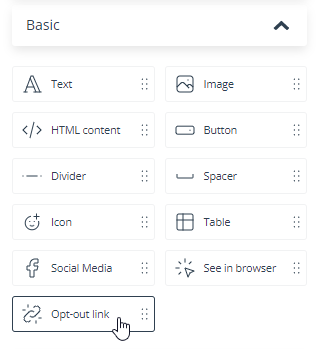 Learn more about Email Design Studio widgets >>
---
Opt-out Link
An opt-out link must be included in all emails except subscription confirmation emails (which must contain an opt-in link). An opt-out link can only be added to text, which must be clearly visible and unambiguous.
The Opt-out Link widget in the Email Design Studio doesn't require any additional configuration—the link is already included and fully functional. However, you may want to edit and format the text or add some padding.
Example phrases:
"Unsubscribe"
"Opt out"
"Cancel subscription"
"Remove me from the list"
"Stop receiving emails"
"Take me off the mailing list"
"I don't want to receive emails from you anymore"
If you want users to be redirected to a landing page upon clicking on your opt-out link, click on the link's text and select the pencil icon:

Check the box: Redirection URL and enter the destination address into the input field that will appear. Click Save.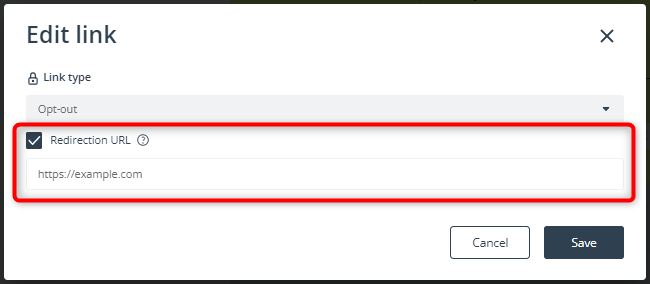 NOTE: The URL address must include the protocol (https://).
Read about common widget settings (including positioning) >>
If you need more information about the topic mentioned above, please contact us:
support@salesmanago.com
+1 800 960 0640