Thanks to the SALESmanago Email Design Studio, you don't need to waste time coding email templates from scratch. You can design an email with just a few clicks and enjoy beautiful messages that look perfect on any device.
Learn how to create an email in the Email Design Studio >>
The Email Design Studio offers a broad choice of widgets—elements that allow you to include different types of content in your email and thus easily convey the message you want to deliver to your audience. The widgets are divided into four categories. Each widget serves a different purpose and can be configured in several ways.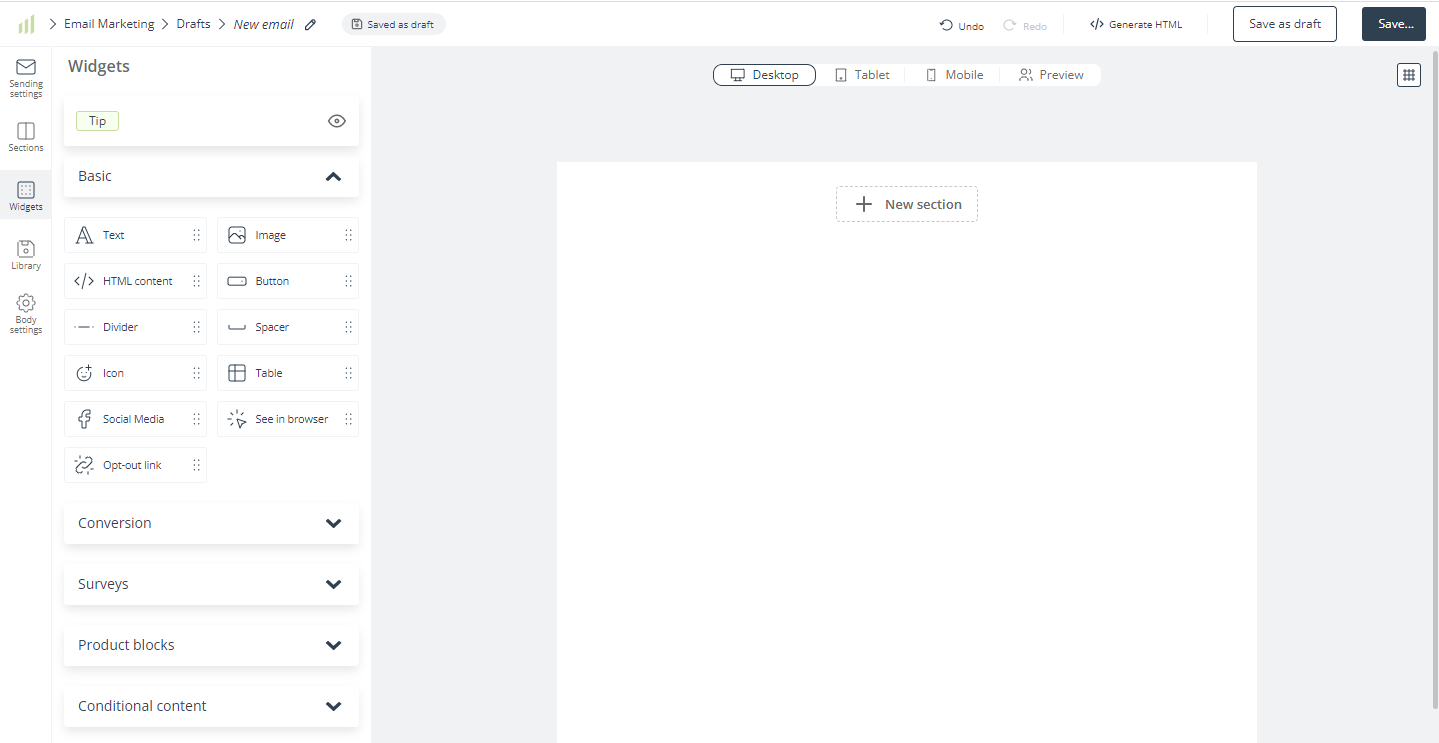 Below, you can find a list of all articles related to Email Design Studio widgets.
---
COMMON WIDGET SETTINGS
Certain common settings (positioning, display settings, text editing options, and links) can be configured for most widgets available in the Email Design Studio.
---
WIDGETS: BASIC
These widgets allow you to include essential content in your email, such as text, images, and an opt-out link.
---
WIDGETS: CONVERSION
These widgets are specifically designed to encourage your audience to visit your website.
---
WIDGETS: SURVEYS
Use these widgets to ask your audience for their opinions and collect zero-party data.
---
WIDGETS: PRODUCT BLOCKS
These widgets are a convenient way to include product recommendations in your email. By default, they contain placeholders for an image, text (product details), and a button.
---
CONDITIONAL CONTENT
In the Email Design Studio, conditional content can be defined for entire sections (and not individual widgets). To configure conditional content, go to Sections and drag a conditional section into the email body: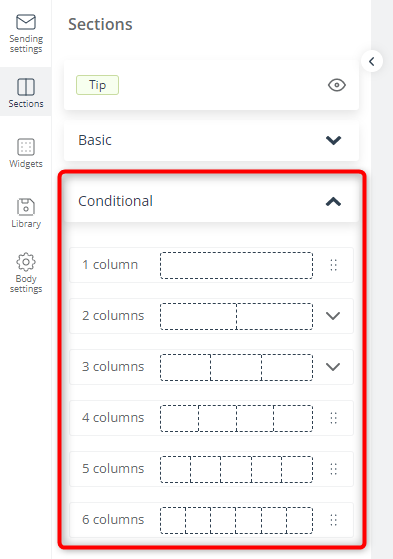 You can add any number of widgets in one conditional section.
Read how to configure conditional content in the Email Design Studio >>
If you need more information about the topic mentioned above, please contact us:
support@salesmanago.com
+1 800 960 0640