The Email Design Studio offers a wide range of widgets—elements that allow you to include different types of content in your email. This article explains how to configure the See in Browser widget.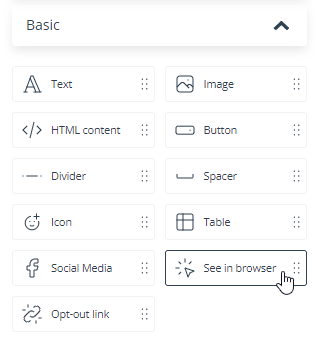 Learn more about Email Design Studio widgets >>
---
See in Browser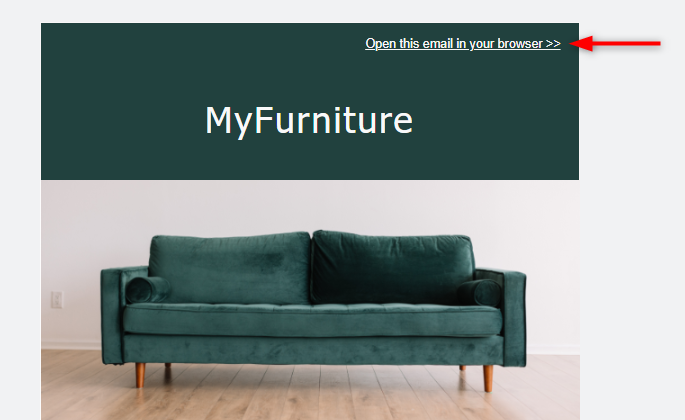 This widget includes a link that allows recipients to view the email in their browser.
This can be useful if the email is not displayed correctly in the recipient's inbox, which can be caused by the following issues:
Operation of antivirus software.
Spam filters, which can sometimes block or modify the contents of emails, causing them to display incorrectly.
Email client compatibility issues (if the email was created in a different email client with different formatting not supported by the recipient's email client).
Broken HTML or CSS code (if the email contains code that is improperly formatted).
User settings (the recipient's email client settings or display preferences may be set in a way that causes the email to be displayed incorrectly).
The inclusion of a see-in-browser link increases the chance that the recipient will see the contents of your email as intended. If a Contact clicks on the link, a new tab with the email will open in their browser.
The See in Browser widget in the Email Design Studio doesn't require any additional configuration—the see-in-browser link is already included and fully functional. You may want to edit and format the placeholder text, though, or add some padding.
Example phrases to use:
"View in browser"
"Open in browser"
"Display in browser"
"See this email in your browser"
Read about common widget settings (including positioning, links, text editing, and display settings) >>
If you need more information about the topic mentioned above, please contact us:
support@salesmanago.com
+1 800 960 0640