SALESmanago allows you to spam test the message you are preparing. The test gives you information on the receipt of the message tested by mailbox providers. The basic settings allow you to test the messages on 7 mailboxes, such as:
wp.pl
onet.pl
interia.pl
gmail.com
o2.pl
yahoo.pl
vp.pl
Additionally, in order to increase their accuracy, you can include your email account in the tests.
NOTE: creating a separate email account is not mandatory to run a SPAM test. For more information on how to create an email account click here >>
RUNNING THE SPAM TEST
A. You can run a spam test for a message you created. In order to do that, go to EMAIL MARKETING -> EMAIL LIST and choose SPAM TEST for this message.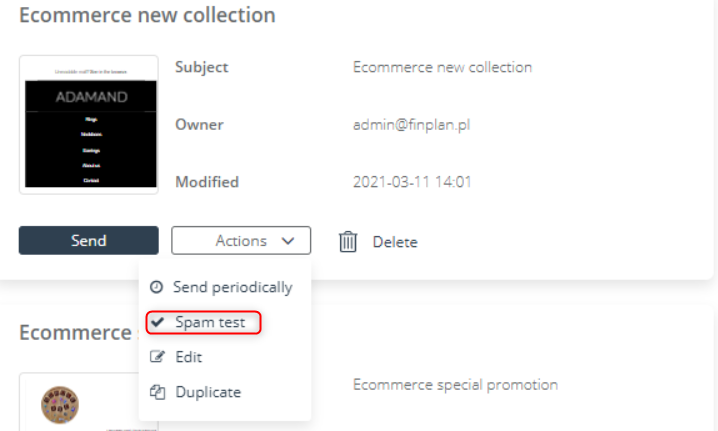 B. A window will appear with a box PERSONALISATION FOR THE RECIPIENT where you should indicate one email address from which data needed for personalizing the message will be uploaded. No message will be sent to this email address during the spam test. In order to run the test, click the SPAM TEST button.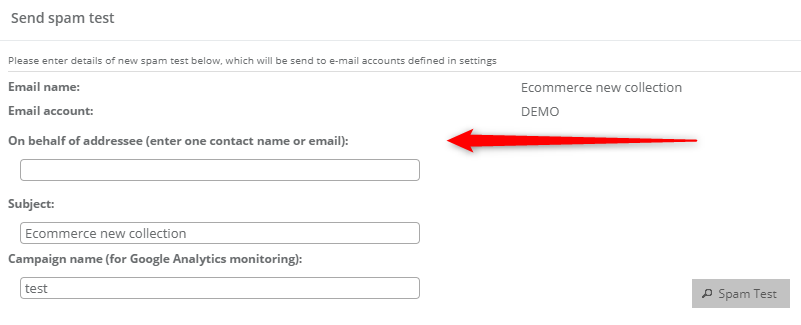 C. After the test has been sent, the information on its results will appear. The test can last from 15 to 30 minutes. After this time, refresh the page.
The orange icon indicates that this domain awaits to be tested.
The red icon indicates that on this domain your message has been flagged as spam.
The green icon indicates that this domain has passed the spam test – your message has not been flagged as spam.
The results also show the accounts added to the system for spam testing. The message sent during the spam test should be delivered to these mailboxes. If it does, the message has passed the spam test and is recognized by the email account as a regular message.
Spam Checker Version –  version of  SpamAssassin  that identifies email messages as spam. This parameter refers to the settings on the receiver side. It may happen that this information will not be available, which will have no effect on the running of the test.
Spam Level – a value expressed numerically or for example as an amount*. This parameter indicates to what extent Spam Assassin considers the message as spam. The value of >5 means that the message is identified as suspicious.
Spam Status – a more detailed description of the spam test on the server.
Received SPF – an indicator with a description providing information on whether the domain indicated as the sender is linked to the IP from which the message has been sent, and whether it is authorised.
IMPORTANT: all of the data above is added to the message as headers, and is not immediately visible in the email client. However, if we test the message in the form of the source code, we are able to find this information.
If you need more information about the topic mentioned above, please contact us:
support@salesmanago.com
+1 800 960 0640